Connect Contact Form 7 to Kartra
It's easy to connect Contact Form 7 to Kartra with WP Fusion, and requires zero coding experience.
All the tools you need to connect and grow
Contact Form 7 is a popular and highly-rated WordPress contact form plugin.
Customize forms in any way you choose, display them on website pages, and manage multiple contact forms. Protect forms with CAPTCHA and spam filters, and create custom email templates to send emails resulting from specific form submissions.
You're probably using Kartra to organize contact data, improve the user experience, and earn loyal customers and fans.
With WP Fusion, you can connect Contact Form 7 to Kartra to create new contact records from form submissions, sync custom fields, and apply tags.
By tagging users in Kartra, you can create hyper-focused segments and automation rules to offer a better experience and sell more.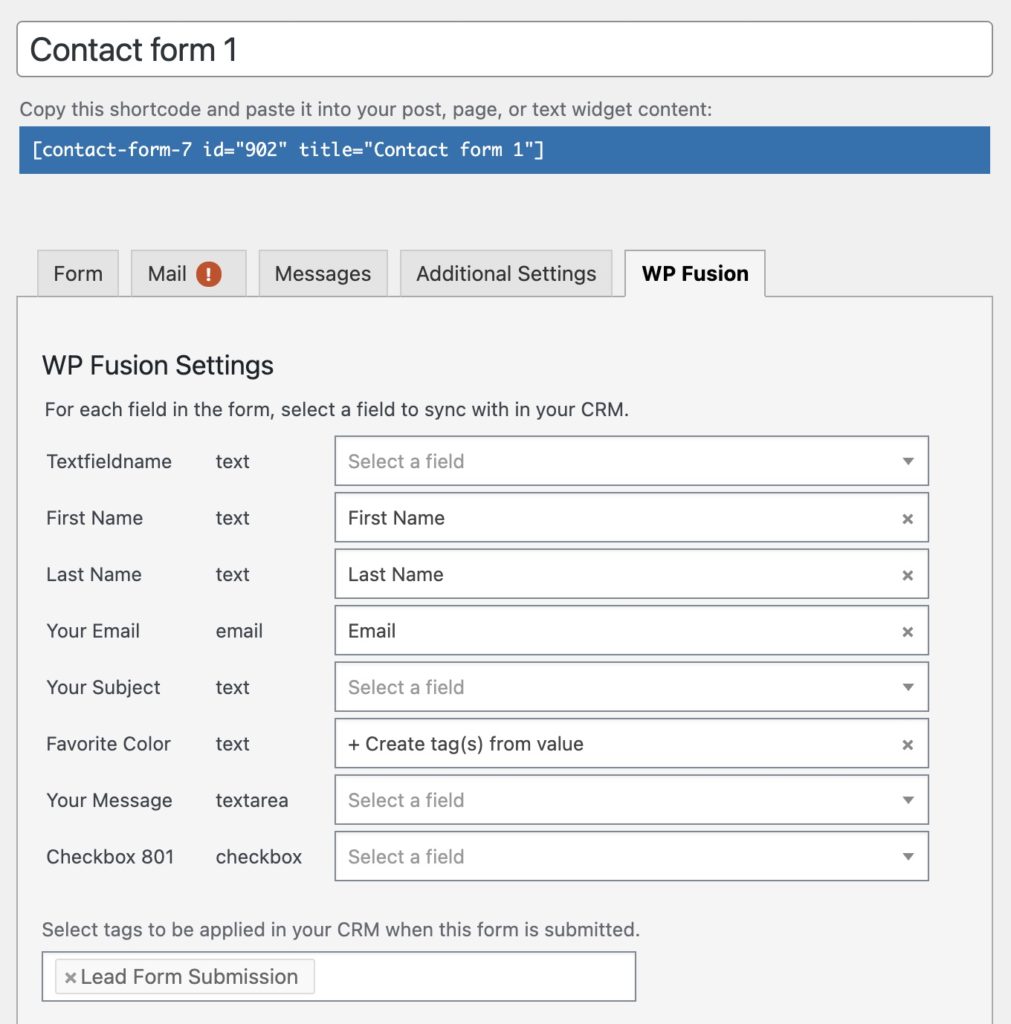 Using WP Fusion to connect Kartra to Contact Form 7 and WordPress is easy. Simply install WP Fusion and authorize your WordPress site with Kartra.
That's it! Your Contact Form 7 users will automatically start syncing with Kartra. You just have to match the input fields so the data will sync correctly – and with the correct mapping, you can match anything.
Gather a Limitless Amount of Data
Use tags to create custom fields in both Contact Form 7 and Kartra. You can then:
Create forms with text fields, checkboxes, radio buttons or drop-down menus.
Gather information about interests, preferences, location, UX feedback – whatever you want!
Set a max length in specific text fields so the text isn't cut off in Kartra.
When a contact submits a form, the Kartra database updates without you having to do a thing.
Add an Acceptance Checkbox
Include an acceptance checkbox on a contact form when you need the user to accept terms before their information goes to you. Getting consent is especially important when using WP Fusion for a Contact Form 7 and Kartra integration – consumers should always know when their info is added to another database.
Group Contact Data Into Lists
You can set your contact forms to specify which Kartra list the user should be added to. You can apply one setting to all of your forms, or you can choose the Kartra list based on the specific form.
With WP Fusion, you can create a deep Kartra – Contact Form 7 integration and do more with the rich data you collect.
Click below to learn more about why WP Fusion is the best solution to connect Contact Form 7 to Kartra.
It's time to rethink how WordPress can work for you.