Bring the power of marketing automation to WordPress
WP Fusion integrates dozens of WordPress plugins with leading CRMs and marketing automation platforms.
Rethink how WordPress works for you
WP Fusion uses tags to link 63 WordPress plugins to your CRM, and to eachother.
Anything can apply a tag.
Gravity Form Submission
Lesson Completion
Page View
Abandoned Cart
MemberPress Registration
WooCommerce Purchase
ThriveCart Purchase
First Login
A tag can trigger anything else.
Create a New User
Award an Achievement
Unlock Content
Discount a Product
Set a Membership Level
Display a Message
Course Enrollment
Change a User Role
Your CRM acts as the brain.
Send Email
Track Student Progress
Wait Until Date
Drip Feed Content
Personalize Communication
Track Purchases
Check Conditions
Assign Sales Reps
WP Fusion supercharges your website
Want to learn more?
The possibilities with WP Fusion are almost limitless, and every business is unique. Choose what works best for you:
---
---
Easy to Install
Just install the plugin, configure your CRM connection, and you'll be up and running in minutes.
Extensive Documentation
Check out our help center for getting started guides and examples of what you can do with WP Fusion.
Stellar Support
If you require assistance, we're here. Most support requests are resolved within 24 hours.
Open Source
WP Fusion is an open source plugin, and requires no additional software or server extensions to work.
Jack and the WP Fusion team are simply amazing. They are constantly developing solutions to problems I didn't even know I had. In the few cases I needed support, they were there with out of the box answers that always fit the bill. In one case, they even wrote a custom integration just for little old me! If you are on the fence about going with WP Fusion, now is the time to hop off. WP Fusion makes my life 400% easier and has transformed my customers experience.
Jason Abraham
LLA Media LLC
Super happy with this plugin! As one that helped start the Infusionsoft partner program back in 2008 who has used WordPress for many years, I've been looking for this functionality for a long time. We've developed custom functionality at a much greater expense that does less than WP Fusion.
This plugin fills a major hole in the WordPress ecosystem. There are great tools that integrate in various ways to Infusionsoft like Gravity Forms (form builder) and Memberium (full fledged membership platform). But there hasn't anything in between that provides a great integration with Infusionsoft and isn't a significant on-going monthly expense.
WP Fusion does provide great integration between WordPress and Infusionsoft and gives you membership capabilities for a set (very reasonable) price. It also integrates easily with LearnDash (one of the consensus picks for a WP / Infusionsoft, eLearning solution). Integrate your site with Infusionsoft, take purchases on the WordPress side or Infusionsoft side, link up user accounts, create user accounts, control access to courses, pages, etc. without the need for code. Support has been great as well!
Nothing but good things to say about WP Fusion.
Chris Lee

WPFusion is the glue between your email list and the tools you depend upon. It fills in the missing features in my LMS and Membership software and allows me to trigger events even when other tools don't let me. Without WPFusion, I couldn't serve my members like I do, with WPFusion, my finger is on the pulse!
Darryl Burling
Master New Testament Greek
Are you looking for another way to add membership functionality and elevate your customers' experience by leveraging site visitor and CRM data? If so, let me introduce you to why WP Fusion just might be your next best plug-in.
Shawn Bradshaw
Your Marketing Automation
One of the best customer services experiences I have had in a long time. Jack is a very knowledgable guy who understands the WordPress and Infusionsoft ecosystem. He was very available to answer any questions I had. We have a unique set-up and to work with and Jack quickly understood our situation and overall business needs. I will recommend WPFusion to all my fellow Infusionsoft using friends.
Bryan Holladay

WP Fusion builds a critical bridge between our WooCommerce powered ecommerce site and LifterLMS powered training site to our CRM Active Campaign. It was easy to set up. The technical support is above and beyond anything I've ever seen. What it does is clearly intelligently designed and well built.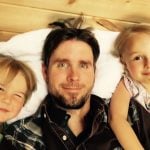 Chris Badgett
LifterLMS