#Overview
The WP Fusion Downloads Addon (available for Plus and Professional license holders) allows you to protect files in your site's media library using a user's CRM tags.
This addon can be used to prevent your images, PDFs, and other downloadable files from being shared or accessed by unauthorized users.
For more complex requirements involving selling digital files we still recommend either WooCommerce or Easy Digital Downloads.
Note:
As of June 2020 this addon is being placed in indefinite Beta status. It works on many sites, but because it requires modifying file permissions on your server we can't guarantee compatibility with all hosts.
For a more robust file protection plugin, check out our integration with Download Monitor.
Note: The Downloads Addon does not work on WordPress Multisite.
#Setup
When adding any media item to a page using the Media Library, you'll see a panel where you can configure content protection for the media file.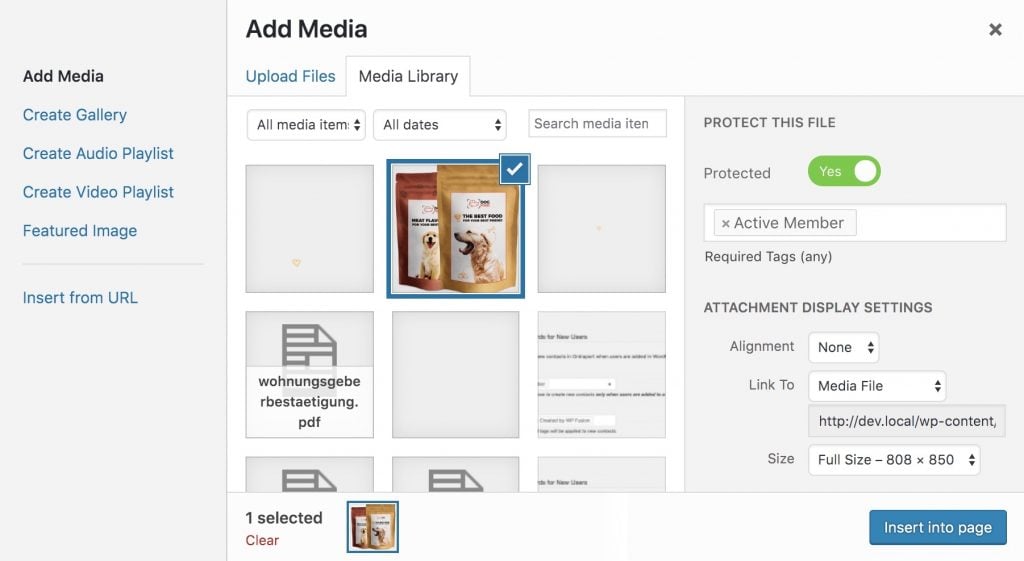 If you toggle the switch for Protect this file the media item will be moved to a protected folder inside of your /wp-content/uploads/ directory. By default the file will only be accessible to logged-in users.
You can also optionally specify one or more tags that are required to access the file.
#Usage
Media files can either be embedded into a page (as an image, PDF, or audio file), or delivered via a download link. When a user attempts to access the file WP Fusion will first checked their login status and CRM tags before delivering the file.
#Redirects
By default a 404 error will be given if someone tries to directly access a restricted file and doesn't have access.

To override this and redirect the person to another page you can specify a redirect from the Addons tab in the WP Fusion settings.
Was this helpful?
Let us know if you liked the post. That's the only way we can improve.