#Overview
WP Fusion integrates with Download Monitor to allow you to protect downloadable files using tags in your connected CRM.
#Download setup
When editing any Download in the admin, you'll see the WP Fusion access control meta box in the sidebar.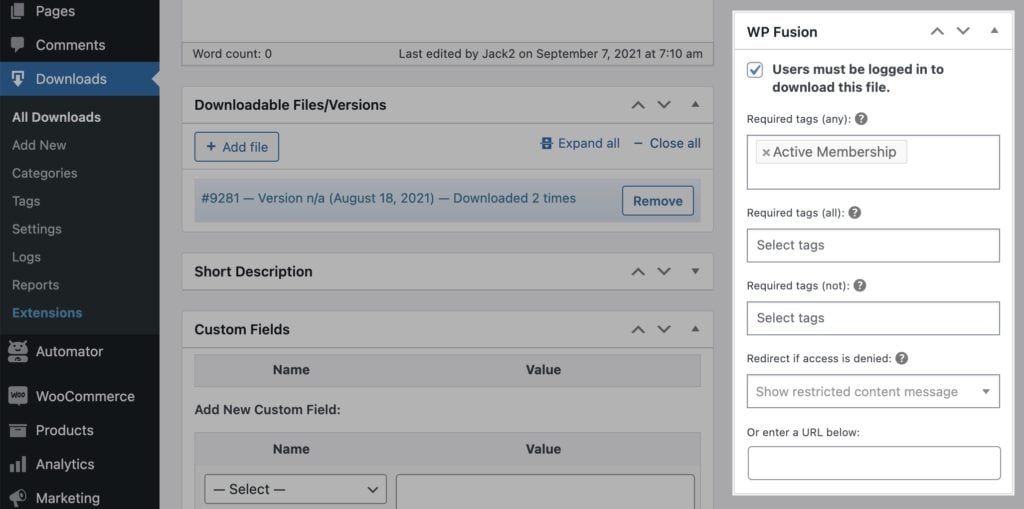 By checking Users must be logged in to download this file, you can select tags in your CRM that are required to download the file.
If the user is not logged in or does not have the correct tags, they will be redirected to the page you select in the Redirect if access is denied dropdown.
If you do not select a redirect, they will be shown the default restricted content message.
#Listing member downloads
Download Monitor includes a [downloads] shortcode which lets you display an HTML list of downloads.
WP Fusion has the ability to personalize the list of downloads based on the current user's tags in your CRM.
To enable this, head to Settings » WP Fusion » Integrations » Download Monitor and check the box for Filter Members Only.
Then, when using the shortcode, like
[downloads category="Category" members_only]
Any downloads that the user can't access (based on their tags in your CRM and the settings configured on each download) will be hidden.
This can be used to create personalized lists of downloads unique to each user.
Was this helpful?
Let us know if you liked the post. That's the only way we can improve.