WP Fusion is a Zapier WordPress alternative which specializes in WordPress. If you're frustrated with the limitations of Zapier's integrations with WordPress, read this post.
Update – Feb 20th, 2021: WP Fusion is not just a Zapier alternative. It's also an alternative to Pabbly Connect. Stop wasting money on Pabbly Connect. WP Fusion has deeper integrations with your favorite plugins, no usage limits, and no monthly fees.
Sign up for WP Fusion and cancel your Pabbly account today.
We should be really clear up-top: WP Fusion is a Zapier alternative for WordPress use-cases, but it's not a full Zapier replacement. You can have WP Fusion take care of advanced WordPress-specific automations (which Zapier comes nowhere near being able to offer), but you'll probably still want to keep Zapier around for other use cases.
It would be impossible to manually update your software tools with new data every single time a customer makes a change such as ordering a new product, canceling their membership, or updating their contact information. Tools like WP Fusion and Zapier automate those basic updates so you don't have to spend your days on data entry.
You want to use every piece of customer data available to deliver the services and products that are most important to each person. Zapier's integrations work fine when it comes to general tool-to-tool connections between some of the most widely used SaaS apps, such as Gmail, Google Sheets, Slack, Trello, and more.  But Zapier struggles to join the dots between many of the most popular WordPress plugins, CRMs and marketing platforms. This is where we come in.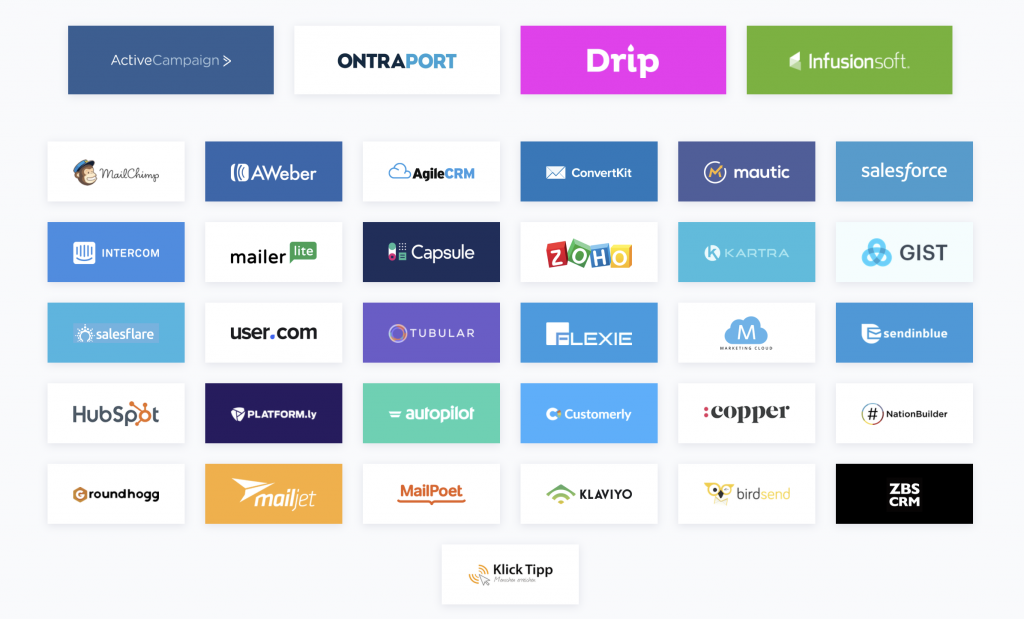 WP Fusion has been built from the ground up to integrate deeply with WordPress and the tools you use, making it an ideal solution for WordPress site owners. For example, with WP Fusion you can add new custom fields and tags so that every CRM and marketing tool you use has matching information.

Advanced tagging strategies combined with your online courses, WooCommerce store, or membership site can automatically add or remove customer access, then generate login information emails or redirect customers to other WordPress site pages. And when you use forms to collect customer data, you'll have full control over what's sent to your CRM and what isn't, saving you the trouble of sorting through inessential information.
Overall, for WordPress-focused integrations, WP Fusion is a much more powerful tool than Zapier for WordPress use cases, one that goes beyond simple organization and upkeep to help automate your workflow.
Get Automated. Get WP Fusion.
Install WP Fusion today to get all your business tools on the same page.
Buy WP Fusion
Before we explore a few different integrations, let's quickly cover why WP Fusion is superior to Zapier's WordPress integrations.
Benefits of Using WP Fusion: Why You Need a Zapier WordPress Integration Alternative
When it comes to WordPress integration, WP Fusion can do everything Zapier does, plus a lot more. Zapier is a great generalist solution, but specific circumstances require specialised solutions: WP is that solution.
WP Fusion is a WordPress plugin which integrates specifically and deeply with WordPress, whilst Zapier is a third party SaaS with the option to integrate with some WordPress functions and plugins. You get better functionality with WP Fusion.
With WP Fusion, data goes directly to the connected tool. You don't have to worry about third party data processing. Zapier, on the other hand, will send data through their own platform (and then on to the connected tool) at intervals, which is a less secure and a longer process.
WP Fusion has affordable plans that you only have to pay once a year, even for plans with powerful pro addons. Zapier has a free plan, but a lot of its apps are behind a paywall. You'll likely have to upgrade to a paid Zapier account and pay for the service every month.
Get Automated. Get WP Fusion.
Buy WP Fusion today to start making the most out of every interaction your customers have with your brand.
Buy WP Fusion
Now, let's explore four different integrations that both WP Fusion and Zapier can handle. While WP Fusion and Zapier can perform simple digital recipes, WP Fusion takes each integration several steps further for deeper results.
WishList Member and ActiveCampaign
The first WP Fusion vs. Zapier integration we'll talk about is WishList Member and Active Campaign. WishList Member is a WordPress plugin that gives you the tools you need to set up a membership site, while ActiveCampaign is a CRM, marketing and sales platform. Let's look at how Zapier integrates WishList Member with ActiveCampaign, then compare it to what WP Fusion can do with the same integration.
#Using Zapier to Connect WishList Member and Active Campaign
Zapier can carry out a handful of actions in ActiveCampaign when a member is added or removed from WishList Member; a member is added or removed from a WishList Member level; or a member is canceled or un-canceled from a level:
Find an account, contact or deal
Create or update an account or contact
Add new user / contact to an automation
Add a note to a contact or deal
Create a campaign or tracked event
Create or update a deal
That's not bad – there are more features with this Zapier integration than with other ActiveCampaign Zaps – but WP Fusion goes a lot deeper with its integrations on top of handling the basics.
#Connecting WishList Member and Active Campaign with WPFusion
Here's what WishList Member and ActiveCampaign can do when integrated using WP Fusion. You'll see why WP Fusion is a more powerful Zapier WordPress alternative.
Advanced tagging features let you do so much more than just add or update a contact in your CRM. And when a user visits your WishList Member site, their details will be automatically added to ActiveCampaign. Zapier can do that, too, but WP Fusion goes beyond basic updating to also let you detect and sync custom fields in the registration form.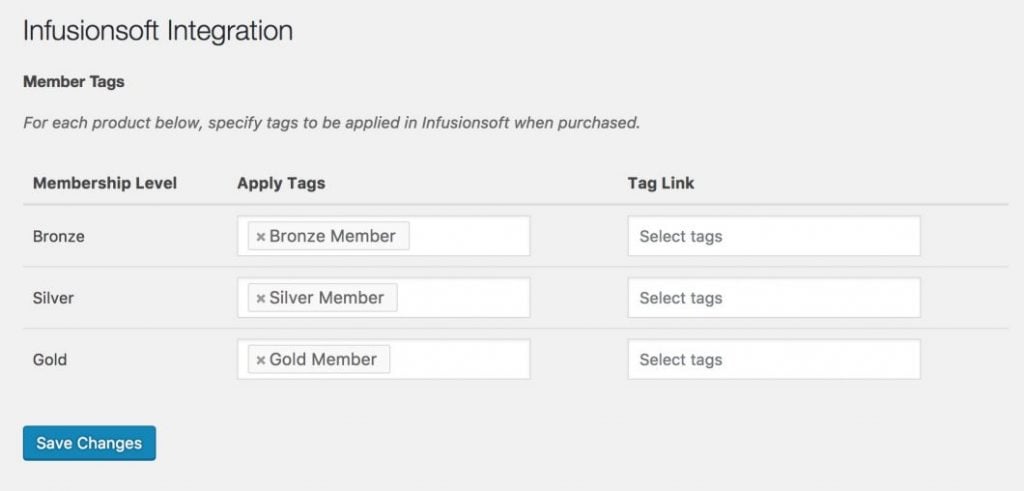 While this example shows integration with Infusionsoft, the WishList Member and ActiveCampaign integration is similar.
Plus, you can designate tags for different WishList Member membership levels and have them auto-updated in your CRM or marketing tool. You can also create tags that, when applied, automatically add a contact to a certain membership level. Likewise, when removed, the contact will be automatically removed from that membership level.
Get Automated. Get WP Fusion.
Buy WP Fusion to connect ActiveCampaign with your other business tools.
Buy WP Fusion
LearnDash and Ontraport
With the LearnDash WordPress plugin, you can create online courses and even restrict access for some students. However, since LearnDash doesn't have many marketing or segmentation options, people often use it along with Ontraport for better user management. Ontraport is a CRM, eCommerce, marketing and reporting tool.
#Using Zapier to Connect LearnDash and Ontraport
Zapier can do very little with its LearnDash and Ontraport integration. When a student takes any of the following actions, the only step Zapier can take is creating or updating a contact:
Enroll in or complete a course
Submit an essay
Complete a lesson, topic or quiz
#Connect LearnDash and Ontraport with WPFusion
WP Fusion gets deeper into integrations so that user information stays up-to-date while also handling easy-to-automate tasks for you. Here's what WP Fusion does when connecting LearnDash with Ontraport or your chosen CRM. Instead of just creating and updating contacts, WP Fusion allows for
Creation of segments.
Auto-enrolment of students in courses.

Auto-add or auto-remove students from groups.
Apply tags based on student actions, including starting or completing a course, lesson or topic, and passing or failing a quiz.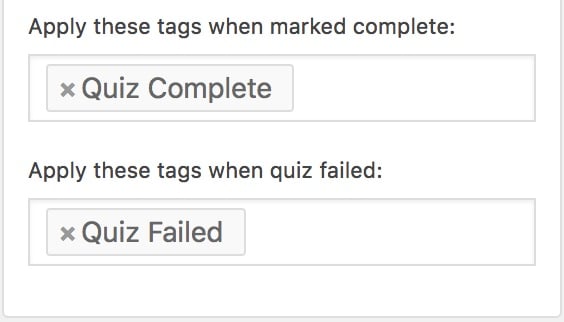 Sync answers from a quiz to a custom Ontraport field (this one's especially brilliant!)

You can also restrict a student's access to courses, lessons or topics, and if they try to access that page, a tag you've added to the contact will automatically redirect them to a different page.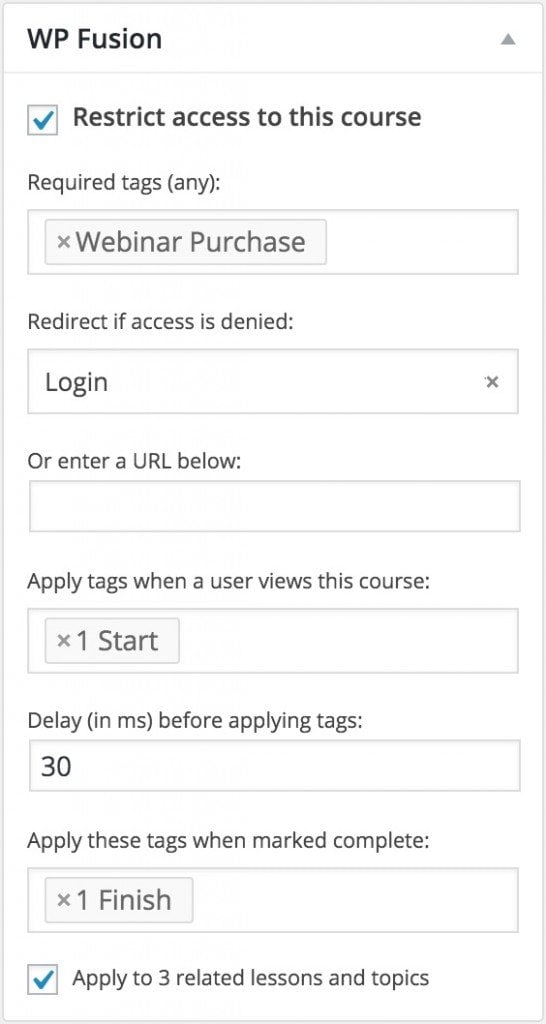 When you set up the LearnDash and Ontraport integration for the first time, new students will be automatically added to Ontraport. Overall, the advanced tagging methods that WP Fusion offers lets you create all types of user segments to target your marketing however you wish.
Get Automated. Get WP Fusion.
Buy WP Fusion to automate your LearnDash workflows.
Buy WP Fusion
LearnDash and MailChimp
You might also want to connect LearnDash to MailChimp, one of the world's most popular email marketing tools.
#Using Zapier to Connect MailChimp and LearnDash
Zapier has a few basic trigger-action recipes when connecting MailChimp and LearnDash. The MailChimp triggers include:
Create a new audience, campaign or subscriber
Unsubscribe a contact
Create a subscriber with a tag
Update a subscriber
When any of those things happen, these actions can occur in LearnDash:
Add to a group
Enroll in a course
Remove from a group or course
While Zapier can keep your contacts somewhat organized, WP Fusion handles routine tasks for you. Zapier may make it easier for you to do your job, but WP Fusion tells your tools how to actually carry out the work.
#Connect MailChimp and LearnDash with WPFusion
With the MailChimp and LearnDash integration from WP Fusion, data flows both ways. That means that whether you update contact information in MailChimp (or your CRM or other marketing tool) or in LearnDash, the information will be updated everywhere automatically.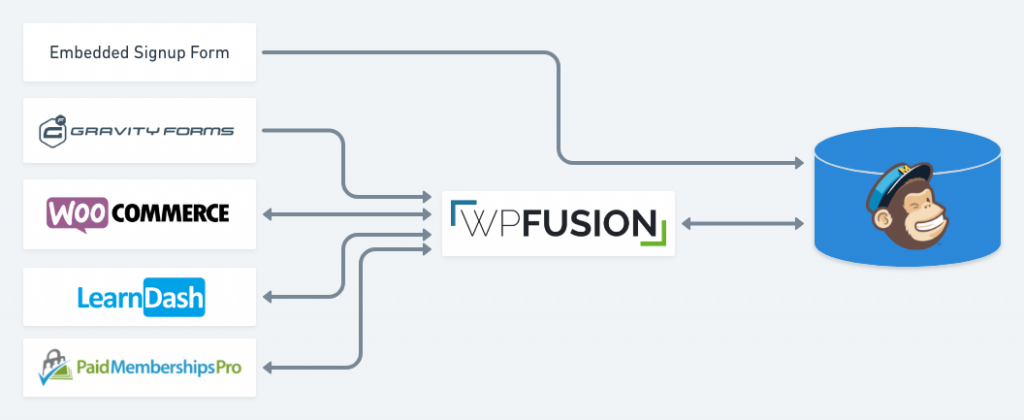 Here's an example workflow:
You want to let new students try a course for free. However, to get that deal, they have to subscribe to your MailChimp mailing list.
A new student fills out your subscription form on your WordPress website.
The contact is added to your MailChimp mailing list.
The contact is automatically tagged with "Free Trial Course." This tells you where the lead came from and it will also carry out tasks for you in your other tools.
The webhook you created sends the MailChimp data to WordPress.
WP Fusion creates a WordPress user for the new student and generates a password.
The password is saved in their contact information in MailChimp.
The "Free Trial Course" tag tells LearnDash to enroll the student in the class automatically.
Here's what it looks like when you create a webhook, and we have an entire page dedicated to explaining this process.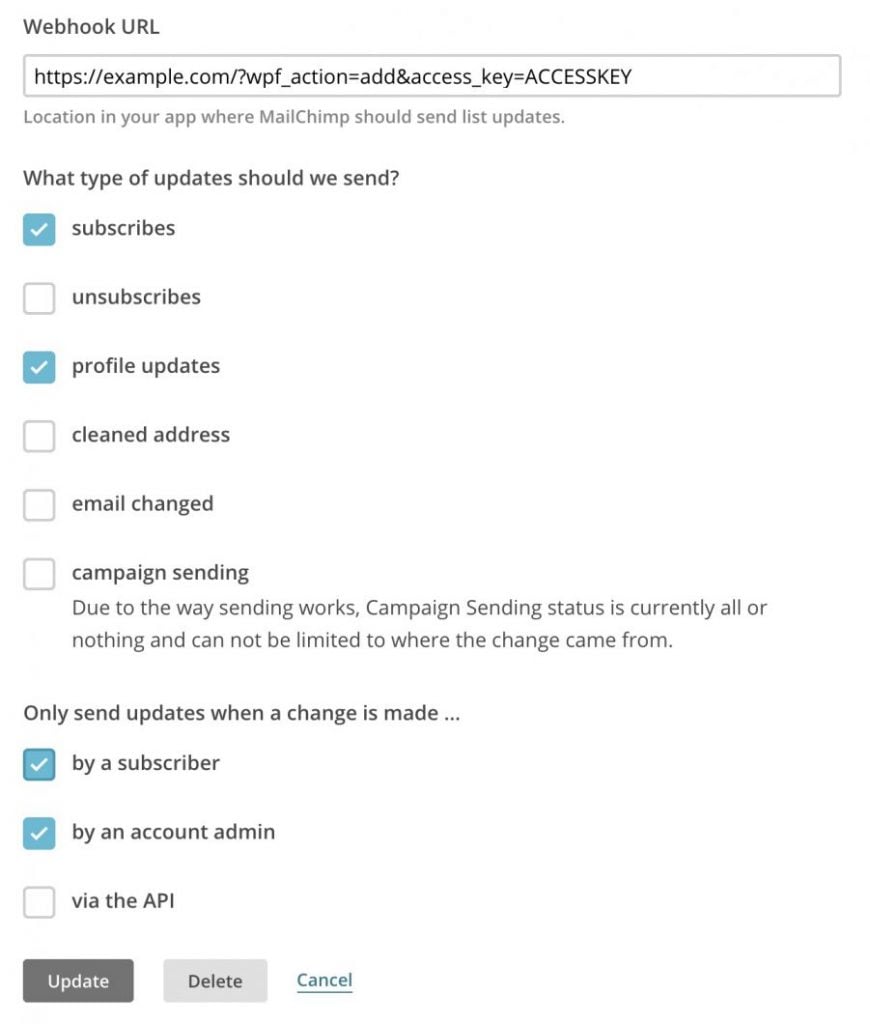 Gravity Forms and Mautic
Gravity Forms is one of the top WordPress form plugins, and it's used to create contact forms and other types of info-gathering forms. Mautic is a marketing automation tool for email, lead generation and more.
#Using Zapier to Connect Gravity Forms and Mautic
The Zapier Gravity Forms and Mautic integration is super simple – there's just one trigger and one action. When you receive new form submissions, you can create new contacts or update existing contacts. That's it.
As usual, WP Fusion's tailored integrations go so much deeper and allow you to do a lot more, making it the perfect Zapier WordPress alternative.
#Connect Gravity Forms and Mautic with WPFusion
Like with Zapier, information from Gravity Forms will go to Mautic (or another CRM or marketing tool) to update the contact. But you can also apply tags, too, and by assigning a tag to a specific contact form, you can keep track of which form the user filled out. This can be used to segment users.
The best feature of the Gravity Forms and Mautic integration from WP Fusion is the conditional logic option. By setting specific conditions, the user is only updated in Mautic or your CRM when certain conditions are met.

For example, let's say you create a form to gather information about people in a certain geographic area. If people somehow come across the form even if they're not in that area, the information they provide won't be helpful to you. Using WPFusion you can create a condition for the city, state or country, and your CRM will only be updated if that condition is met. If it's not met, the form will still be submitted and accessible by you, but the information won't go to your CRM. This helps you keep your contacts clean and organized without getting overloaded with irrelevant information.

Get Automated. Get WP Fusion.
Buy WP Fusion to get more out of your Gravity Forms.
Buy WP Fusion
Final Thoughts on Using WP Fusion as a Zapier WordPress Integration Alternative
When you have a WordPress account and website, you want to attach as many of your tools as you can to it. Your fans, customers and leads are all going to visit your website, and you need the info they leave behind to be captured and stored. The more you can automate, the more time you'll have for key business-building tasks. Spend your time focused on creativity, troubleshooting complex customer problems or planning your next marketing campaign. Zapier is a great solution for general connections across a wide range of SaaS apps, from Google Drive and Drobox, to Linkedin and many other social media platforms.
When it comes to specifically WordPress integrations, however, WPFusion should be an invaluable part of your toolbox, offering in-depth, WordPress-specific functionality far beyond Zapier's WordPress integrations. You can set up hooks between your plugins and CRMS and let WP Fusion take care of the rest, and every time you log in to your CRM or marketing platform, you'll have fresh, just-updated information at your fingertips.
Get Automated. Get WP Fusion.
Start using WP Fusion today to make the most out of every interaction your customers have with your brand.
Buy WP Fusion