As a WooCommerce store owner, you need a way to manage your customers and communicate with them professionally For this, you need to be using a WooCommerce CRM that integrates with your WordPress website.
For those unfamiliar, a WooCommerce CRM syncs customer, order, and product data between your regular CRM and the WooCommerce plugin for WordPress. This lets you capture customer information directly into your website using WooCommerce and then store it in your CRM.
Here's why it's important to have a CRM for your online store:
Track WooCommerce customers' stats like average order value.
See which products a specific customer ordered.
Tag WooCommerce transactions and sales using searchable keywords.
Provide customer support.
Improve lead and customer management.
This article will be your complete guide to CRM platforms which offer WooCommerce integration through WP Fusion. We'll discuss the key advantages of connecting a CRM to WooCommerce and what you can do with a WooCommerce CRM connection. We'll also take an in-depth look at how you can use WP Fusion as the glue which connects WooCommerce to your CRM tool.
Advantages of connecting a CRM to WooCommerce
A customer relationship management (CRM) tool helps companies manage their interactions with current and potential customers. It keeps track of customers' history with the company including the products they've purchased, their average order value, and customer support interactions. CRMs are designed to help businesses improve customer retention and drive sales growth.
In the context of WooCommerce, this simply means that connecting a CRM to your e-commerce store lets you better manage your customers and transactions. For example, you'll be able to see:
Which customers purchased which products
When they made the purchase
How many products they added to their cart
Whether they abandoned the shopping cart at checkout or completed checkout
… and so much more. And, all of this data will be available to you from a single platform – your WooCommerce CRM. This way, you can perform all sorts of data analysis to learn more about your customers and WooCommerce products.
This also lets you gain insight into things like how customers first learn about your online store (i.e. your top referral sources such as Google search), which email marketing campaigns were most successful at driving sales, and cost per acquisition. As a result, you're in a better position to make informed decisions about growing your business.
The only problem is, there isn't a CRM designed specifically for WooCommerce stores. However, you can use a marketing automation tool like WP Fusion to connect just about any CRM to your WooCommerce store. You can connect both CRM software and WooCommerce CRM plugins for WordPress. The best part is that you don't have to worry about connecting an API.
In this post we're going to be using WP Fusion.
What can you do with a WooCommerce + CRM connection?
Once you have a CRM connection set up, there's so much you can do to manage your WooCommerce customers, increase customer retention, and grow your business. More specifically, you can use your WooCommerce CRM solution to:
Sync WooCommerce data. A WooCommerce CRM connection lets you seamlessly sync data between the CRM and the WooCommerce plugin. This way, important WooCommerce information (like customer orders and transactions) are attached to customer records.
Segment customers. Segment customers based on various WooCommerce conditions. For example, you can automatically assign tags to customers based on ordered products, order status, or billing. This way, you can easily view all customers who purchased a Large Yellow Tee from your online store or all customers who paid via PayPal.
Manage leads and customers. You can automatically tag contacts as leads, subscribers, or customers based on their interactions with your online store. This makes it easy to run email campaigns and offer promotional discounts. It also helps you identify your best lead sources and manage customer profiles. Some WooCommerce CRMs offer these features natively while others require you to purchase add-ons or extensions.
Email marketing. Once you've segmented customers, you'll be in a better position to run targeted email marketing campaigns. This way, you can rest assured the right customers will receive the right message at the right time. It also helps you increase your open rates and ultimately boost conversions. All you have to do is connect your marketing tool with the CRM.
These are just some of the basic things you can do with a WooCommerce CRM connection. Some of the best WooCommerce CRMs, like AgileCRM or Metrilo, are designed for small to medium-sized online businesses whereas others, like Zero BS CRM, are best suited to entrepreneurs.
WooCommerce CRMs like Salesforce, you can sync WooCommerce customers and products with Salesforce; and you get the option to sync your Salesforce products and orders into WooCommerce. And, the Drip CRM comes with built-in tools for tracking conversions and customer lifetime value.
Syncing orders to your WooCommerce CRM using WP Fusion
As we mentioned above, WP Fusion lets you create a connection between the WooCommerce plugin and a WooCommerce CRM like Drip, Salesforce, AgileCRM, or Zero BS CRM.
Whenever customers make a purchase on your e-commerce store, their details are automatically added to your WooCommerce CRM and you can tag them based on various factors such as:
The products they purchased.
What date (and time) they made the purchase.
How many products they added to their cart.
How they paid for their order e.g. cash on delivery or PayPal.
Here's how it works when a customer makes a purchase:
#Syncing customer data
First, a new contact is created in WooCommerce with the customer's first name, last name, and email address. These are the default settings. You can sync these with WP Fusion.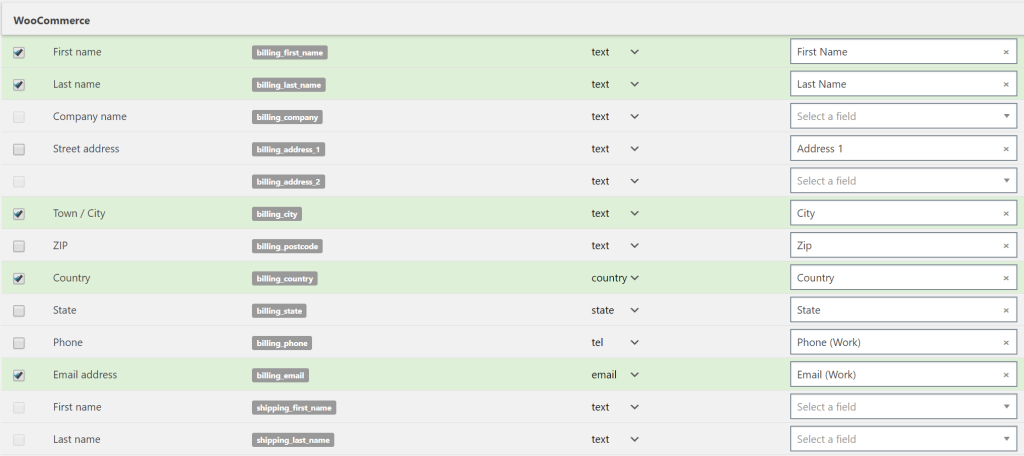 If you'd like to enable additional fields to be synced automatically in real-time, head over to the Contact Fields tab in WP Fusion settings and scroll down to the WooCommerce section.
#Syncing product attributes
If you sell variable products through your online store, you'll need a way to sync selected product attributes in your WooCommerce CRM.
For example, if you sell a shirt in different sizes (large, medium, and small), you would want to keep track of how many of the shirts sold were size large, how many were size medium, and how many were size small.

In the WP Fusion settings screen, you'll find all available product attributes in the WooCommerce Attributes section. When a customer purchases a product, the product attribute they selected will be stored in the corresponding custom field.
#Product tagging
WP Fusion lets you automatically apply tags when customers interact with your WooCommerce products in different ways. These include applying tags when a product is purchased, refunded, or when a transaction fails.

In addition to this, you can also restrict access to certain products unless a user has a specific tag applied to their contact in your WooCommerce CRM. It also lets you apply tags when a user views a particular product. It also lets you set a delay (in milliseconds) before applying or removing tags from your WooCommerce CRM.
For example, you can use this feature to show specific products to contacts who are marked "Repeat Customers" in your WooCommerce CRM. This is a great way to offer promotional products or upsell to certain types of contacts.
#Order status tagging
You can also use WP Fusion to apply tags to customers in the WooCommerce CRM when their order status changes. For instance, if you mark a customer order as "Shipped", the corresponding tag will appear in your WooCommerce CRM.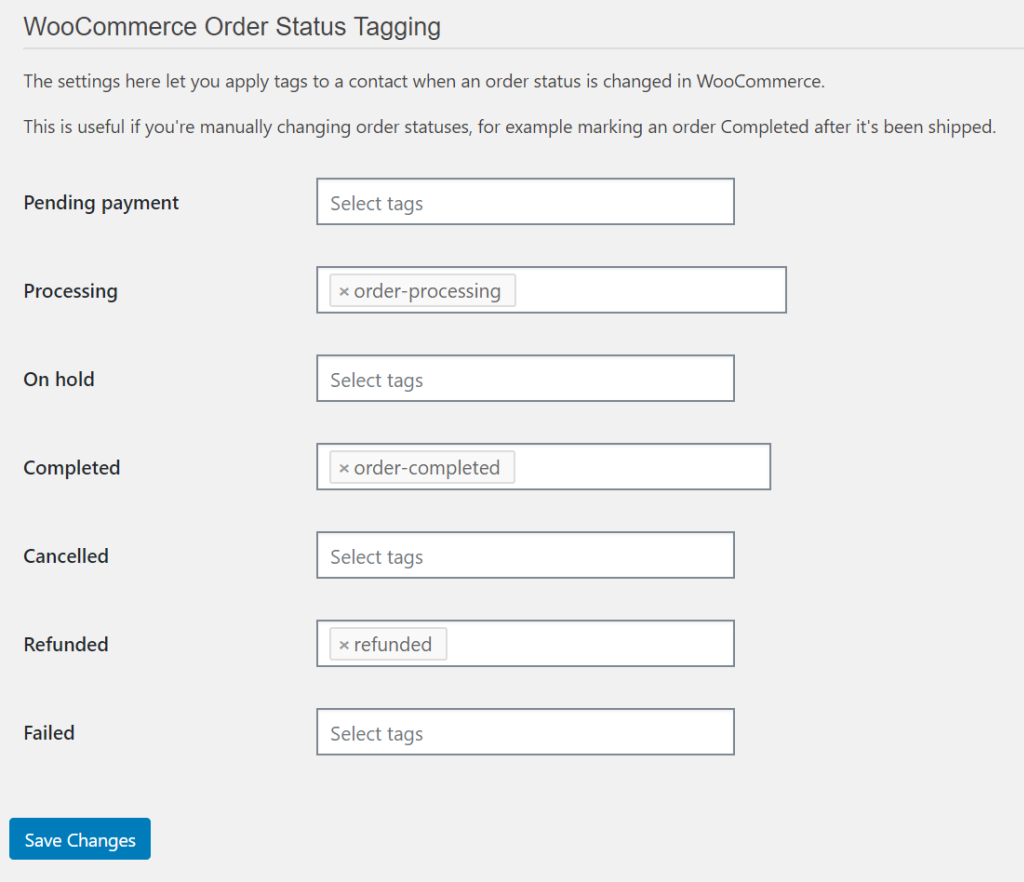 If your WooCommerce CRM offers email marketing features (like Mailchimp), you can configure it to send customers an email notifying them that their order has been shipped. Once your CRM is set up, this will work for all new orders placed through your online store.
#Syncing historical orders
If you've already been running your WooCommerce store for some time now and would like to add previous WooCommerce order data to your WooCommerce CRM, you can do so using WP Fusion. WP Fusion comes with a handy CRM feature that lets you sync all historical orders and order details to your WooCommerce CRM.
The first thing you need to do is configure your WooCommerce products with the tags you'd like to automatically apply on purchase. Once that's done, head over to Settings > WP Fusion > Advanced from the WordPress admin panel and scroll down to the Batch Operations section.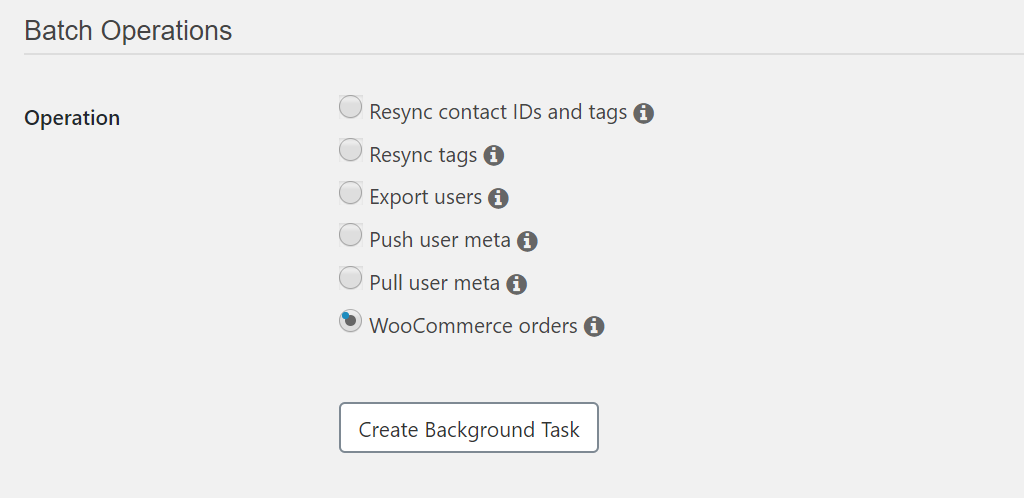 Finally, select WooCommerce orders from the list of available Operations and click the Create Background Task button to proceed. WP Fusion will automatically go through all of your WooCommerce order history, add (or update) contacts, and tag customers based on their purchases.
Abandoned cart tracking
WP Fusion offers abandoned cart tracking features for all supported WooCommerce CRMs. It's available as a pro add-on with the Plus and Professional plans. This lets you automatically add prospective customers to your WooCommerce CRM after they add products to the cart and begin the checkout process.
In other words, when a prospective customer enters their first name, last name, and email address in your checkout form, they're added as a contact to the CRM – regardless of whether they complete the checkout or not. This lets you retarget customers who added products to their cart but didn't complete checkout.
The main idea behind abandoned cart tracking using WP Fusion is that you apply tags to contacts when they reach the checkout page. WP Fusion will automatically remove the abandoned cart tags if a customer completed the checkout and purchases the products they added to their cart.
Depending on the WooCommerce CRM you're using, you can set up logic sequences and timers to accurately identify customers who started checkout but didn't complete it.
Note: Check out abandoned cart tracking strategies for various WooCommerce CRMs including AgileCRM, ActiveCampaign, Drip, Ontraport, and others.
The Abandoned Cart Tracking add-on lets you configure four settings: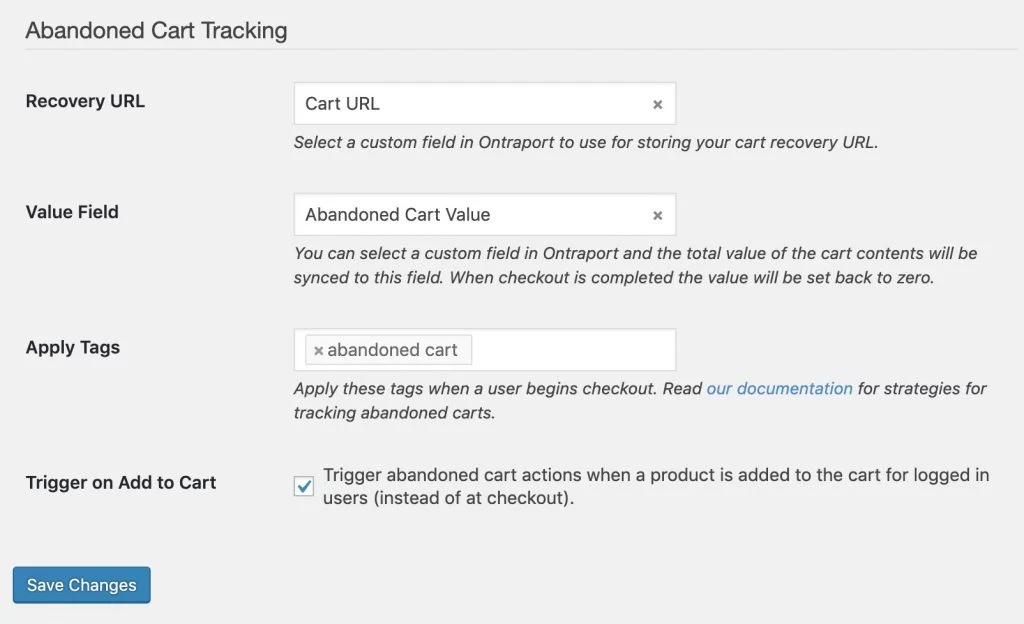 #Recovery URL
This lets you add advanced custom fields to your WooCommerce CRM which you can use to store a cart recovery URL. This is the URL you can send to customers in retargeting emails to encourage them to complete checkout. This way, whenever a customer clicks on the cart recovery URL, they'll be redirected to the checkout page on your WooCommerce store (with their cart contents restored). This is great for reducing cart abandonment rates on your WordPress site.
#Value field
This option lets you specify a custom field in your WooCommerce CRM that's used to store the total value of the products in the customer's shopping cart.
When WP Fusion runs the abandoned cart actions, this value will automatically be added to your WooCommerce CRM in the selected custom field. If, however, a customer completed the checkout process, this value will automatically be reset to zero.
#Apply tags
You can use this option to automatically apply tags to the customer's contact in your WooCommerce CRM when they begin checkout.
These tags can then trigger all sorts of sequences in your WooCommerce CRM. For example, you can choose to follow up with customers who started the checkout process but didn't complete their purchase.
#Trigger on Add to Cart
This option lets you start the abandoned cart actions in WP Fusion for logged-in WordPress users. This is great for WooCommerce stores that give customers the option to create user accounts. What happens is that the WP Fusion abandoned cart actions and automation begins when users begin adding products to their shopping cart instead of when they reach the checkout page.
WooCommerce Subscriptions
The WP Fusion WordPress plugin works seamlessly with the official WooCommerce Subscriptions plugin which makes it easy for store owners to automatically tag subscribers. For example, store owners can tag subscribers when they purchase products or use a variety of other triggers such as when the request refunds.
This is especially useful if you sell subscription products through your WooCommerce store. For each type of subscription product you sell, WP Fusion lets you configure parameters including:
Apply tags when the customer's subscription expires.
Removing purchase tags when a customer cancels their subscription.
Apply tags when a renewal payment fails.
Apply tags when a customer puts their subscription on hold.
This makes it easy to configure follow up sequences in your WooCommerce CRM. For example, you might set up a trigger to send customers a follow-up email a month after they put their subscription on hold.
One of the neat features on offer with WP Fusion is that it lets you sync customers' active subscription details with their contact in your WooCommerce CRM.

Once you have the WooCommerce Subscriptions extension installed and activated to your WordPress website, you can head over to Settings > WP Fusion > Contact Fields and scroll down to the WooCommerce Subscriptions section to set this up.
Connect your online store and WooCommerce CRM today!
By using WooCommerce CRM software, you're able to bring important WooCommerce data into a single platform.
This makes it easy to track WooCommerce transactions, better manage new customers and leads as well as existing ones, and view important sales metrics. And, as a result, you can make your online store run more efficiently and focus on growing your e-commerce business.
If you're ready to keep track of customer activities, improve customer engagement and retention, and drive sales growth using a WooCommerce CRM integration, get WP Fusion today!