WP Fusion makes it possible to integrate any of 50 different CRMs and marketing automation tools with your WordPress site, but some work better with WordPress than others.
When selecting a CRM it's important to consider the ease of use, the available features, the level of integration available, and (of course) the price.
With that in mind we're going to be recommending our top CRMs for WordPress in 2023, broken into three categories:
Full featured: Your CRM is the hub of your business online. You're using it to track customers across multiple touch points, send automated emails, run revenue reports, assign owners and tasks, and manage opportunity stages.
Middle of the road: You're primarily interested in sending emails and moving contacts through automations. You don't need to manage as much data and are looking for an affordable tool.
Self hosted: You want full control over your CRM and your data, and are willing to spend a little extra time setting things up.
For each we'll take a look at our recommended platforms, the available features, how well they integrates with WordPress, and the monthly price for a list with 5,000 contacts.
Let's get started!
Note: If a CRM in this article has an affiliate program, you may see an affiliate link to their website. Our recommendations aren't in any way affected by these affiliate programs— we've been recommending these CRMs for years, based on our own experiences and those of other WP Fusion users.
#Full featured CRMs
By full featured we mean your CRM is the hub of your business online. You can manage and view all your contacts, including their ecommerce orders, create metrics dashboards, and run reports.
These CRMs have strong automation capabilities with visual workflow builders including field and tag based triggers, conditions, timers, and goals.
They have deep integrations with outside services as well, so you can connect your scheduling, fulfillment, meeting, and other external services together via Zapier or built-in integrations.
---

##1 — ActiveCampaign
ActiveCampaign is our top pick for a full-featured CRM in 2023. It's the perfect combination of power and ease of use. With ActiveCampaign you can:
Manage your contacts across multiple mailing lists, and segment within those lists based on tags
Create emails using a visual email builder and send campaigns to lists, including split testing and date-based campaigns
Create customized contact record views that put the information you need up front, with support for several types of custom fields like radios, dropdowns, and dates
Track ecommerce data like orders, products purchased, lifetime values, and abandoned carts from a variety of ecommerce integrations
Create automations that email or update your contacts based on changes in tags, field values, or date triggers
#Contact management
ActiveCampaign has a strong CRM component, meaning you can store data relevant to your business on records for each customer or contact, and find contacts easily using searches and saved segments.
#Automation
ActiveCampaign really shines at automation. You can create automated workflows that are triggered based on a variety of conditions, and then use timers and logic within those workflows to send highly targeted communications to your subscribers.
For example this automation is triggered when WP Fusion adds a new contact to ActiveCampaign, and syncs the customer's language preference from TranslatePress into a custom field: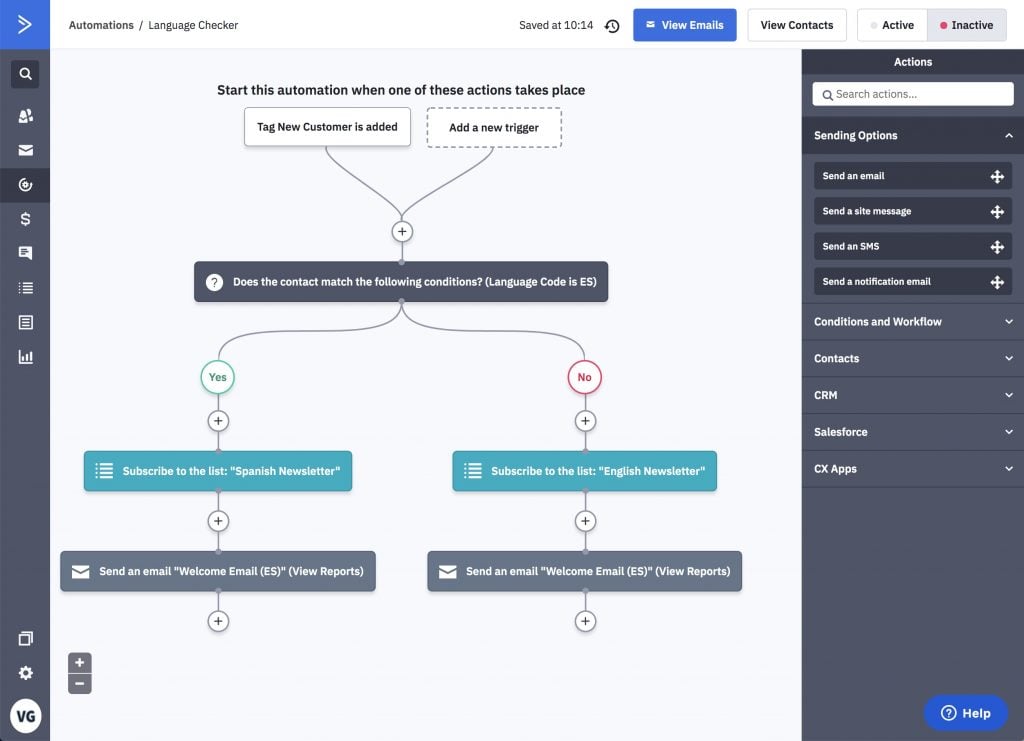 The automation checks the value of the customer's preferred language, moves them onto the appropriate language mailing list, and sends a welcome email.
This automation is triggered when a customer abandons a cart in WooCommerce, via WP Fusion's abandoned cart addon:
It waits one hour to see if a customer has made a purchase, and if not sends an abandoned cart followup email. With ActiveCampaign and WP Fusion it's also easy to automatically give discounts to customers who've abandoned their carts.
#WordPress Integration
ActiveCampaign has a free plugin for WooCommerce which will sync your WooCommerce orders into ActiveCampaign via "Deep Data", though this requires a Plus plan with ActiveCampaign, and it's only a one-way sync.
Thankfully WP Fusion is optimized to work with ActiveCampaign and can sync data from 100+ plugins into your CRM.
Via the use of webhooks, you can achieve a bi-directional sync with ActiveCampaign— meaning a tag applied in an automation can trigger events back in WordPress, like awarding a badge or enrolling a student in a course.
#ActiveCampaign Pricing
ActiveCampaign's pricing is based on your list size and includes unlimited sending. There are two plans to consider:
Lite
The Lite plan has everything you'd need in terms of the CRM and marketing automation features, but lacks "Deep Data" and the ability to see ecommerce orders in your account and send abandoned cart recovery emails.
Price for 5,000 contacts: $69 / month
Plus
The Plus plan adds the "Deep Data" integration with WooCommerce, and works with WP Fusion's Enhanced Ecommerce addon. It also allows you to send SMS messages as part of automations.
Price for 5,000 contacts: $135 / month
##2 — HubSpot
HubSpot is like the Cadillac of CRMs. HubSpot Marketing Hub has everything ActiveCampaign has in terms of list management, emails, automations, forms, chat, social integrations, and sales pipelines.
In addition to that, HubSpot has many other features such as a landing page builder, A/B testing, custom reports, video hosting, collaboration tools, and hundreds of integrations with external tools.
While ActiveCampaign sometimes gets slow, or has an API outage— we've never seen this happen with HubSpot. It's rock solid. And if there's ever a problem, expert support is just a phone call away.
#WordPress Integration
HubSpot has a free plugin for WordPress, which has a lot of great features. Like the ActiveCampaign plugin it enables site tracking and live chat on your site. But it can also be used to access your HubSpot CRM data from inside the WordPress dashboard— essentially a fully-featured portal into your CRM, without having to leave your site.
Another unique feature of the HubSpot plugin is its support for non-HubSpot forms. The HubSpot plugin can intelligently detect form submissions on your site, from any form plugin, and sync the entries to HubSpot.
Considering that it's all automated, this works pretty well. But unlike WP Fusion, there's no way to configure settings for individual forms, or set up field mapping (for example like you can with Gravity Forms). Because of this, people sometimes have problems with contact records getting overwritten with the data from other customers, or custom field values syncing to the wrong fields in the CRM.
We recommend using the HubSpot plugin for quick access to the CRM within WordPress, but leaving the "Non-HubSpot Forms" setting deactivated. Then you can use WP Fusion to sync your data from 100+ plugins into HubSpot CRM, with almost infinite flexibility in terms of which fields are synced, and when.
#HubSpot Pricing
HubSpot really has it all. So, why don't we recommend it as #1?
HubSpot is not cheap. While HubSpot has a free CRM, to get the most out of WP Fusion with HubSpot you'll need HubSpot Marketing Hub Professional, which gives you workflows, and the ability to sync data bi-drectionally with WP Fusion using webhooks.
Base price for Marketing Hub Pro (2000 contacts, paid annually): $800 / month
Price for 5,000 contacts: $1024.72 / month
With plans starting at $800 a month for a (pretty modest) list size of 2,000 contacts— HubSpot is probably out of reach for many membership site owners.
But if marketing automation is critical to your business and you need to have the best features, integrations, stability, and support— HubSpot can start to look like a pretty good deal.
---
##3 — Ontraport
Ontraport has many of the same features as ActiveCampaign in terms of contact management and building automated campaigns, but builds on the CRM functionality by allowing you to have multiple custom objects that relate to your contact records, sort of like a more friendly version of Salesforce.
If you need to manage multiple pieces of related data, then Ontraport is a good choice over ActiveCampaign.
For example if you had a yoga studio business, a single contact record could be linked with:
The studio where the customer is currently attending classes
A trainer who is responsible for checking on the customer
Several classes the customer is enrolled in, with dates and times
The referral partner who originally introduced the customer to your studio
Ontraport also includes many built-in features that would require a third-party tool with another CRM, such as:
#WordPress Integration
Ontraport has a free plugin for WordPress, PilotPress, which lets you run a basic membership site inside of WordPress. Purchases via Ontraport order forms can assign PilotPress membership levels, and then your customers can log into WordPress to access their membership content.
While this is sufficient for a basic membership site, PilotPress doesn't have any learning management capabilities, and also doesn't integrate with other WordPress plugins.
The good news is WP Fusion supports Ontraport in the same way as ActiveCampaign. Using WP Fusion you can build your site using your favorite ecommerce, membership, and LMS plugins, and know that all of your member and customer data is kept in sync bi-directionally with Ontraport.
If you're selling products or subscriptions with WooCommerce, you can also use WP Fusion's Enhanced Ecommerce Addon for Ontraport to sync your WooCommerce orders directly into Ontraport. All of your WooCommerce orders will show up on contact records and in sales reports inside of the CRM.
#Ontraport Pricing
While Ontraport has a ton of built in features, the downside is that this increases the price.
If you're already building your landing pages in WordPress, selling your products via WooCommerce and managing your affiliates via AffiliateWP (and connecting it all to your CRM with WP Fusion), it may feel excessive to be paying for the same features with Ontraport.
Ontraport's pricing is based on your list size and includes unlimited sending:
Price for 2,500 contacts: $147 / month
Price for 10,000 contacts: $297 / month
#"Middle of the road" CRMs
For this category we'll be looking at CRMs that might be a little bit weaker on sales and reporting features, but still have good list building and marketing automation capabilities.
Both of these CRMs are priced more affordably than ActiveCampaign and Ontraport, and both have a free plan that's good for a business that's just getting started.
---

##1 — Brevo (previously Sendinblue)
Brevo is a CRM and marketing automation system from France that's been around since 2012.
Its CRM features are more limited than ActiveCampaign or Ontraport, for example you can't see order history or lifetime value on contact records, but it still has a capable automation builder that lets you use triggers, conditions, and timers to send emails to your contacts.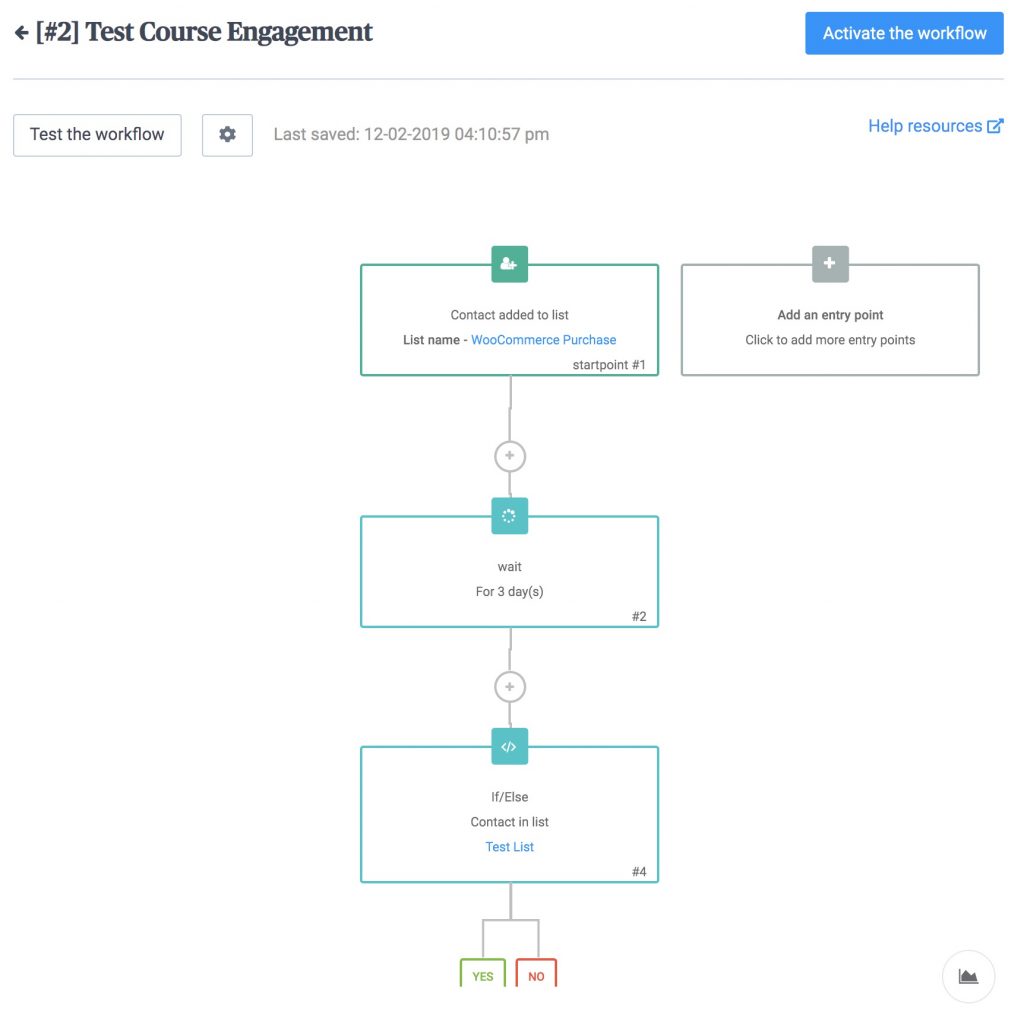 Brevo also has built in features for:
SMS marketing
Live chat
Landing pages
Signup forms
and Facebook ads and retargeting
#WordPress Integration
Brevo has a free WordPress plugin that lets you manage your contacts from within the WordPress dashboard, and embed signup forms on your site.
There are also some helper plugins like the Gravity Forms Brevo Add-On which connect specific plugins to Brevo.
But for the tightest integration between WordPress and Brevo, we (of course) recommend WP Fusion. With WP Fusion any of your WordPress plugins can send data directly to Brevo, allowing you to:
#Brevo Pricing
Brevo's pricing is based on the number of emails you send, not the size of your list.
This makes it a good choice if you have a large list but you're mostly sending transactional emails as part of automations, and your overall email volume is low.
The free plan allows you to send up to 300 emails per day
Price for 40,000 emails a month: $25 / month
Brevo also offers Pay As You Go pricing for email sending, you can buy a 5,000 email sending credit for $40. This might be a good alternative to a monthly plan if you're only sending out a few email blasts per year.
---
##2 — MailerLite
MailerLite is another great choice for a business that needs marketing automation capabilities, but doesn't need to do as much in the CRM with custom field values, assigning owners and tasks, and tracking revenue.
MailerLite's features are similar to Brevo— it has a drag and drop email builder, landing pages, signup forms, A/B split testing, and subscriber organization in the form of segments and groups.
Our only complaint with MailerLite is that they don't allow a subscriber's email address to be updated over the API, meaning if someone updates their email address in WordPress, WP Fusion won't be able to sync the changed email to MailerLite.
That may not be a deal-breaker but it's something to keep in mind, especially if you're running a membership site and need to ensure you always have the most recent email addresses for your subscribers.
#WordPress integration
Like Brevo, MailerLite has a free WordPress plugin that lets you embed signup forms on your website. But this is just a one-way transfer of data when someone submits the form.
For a true bi-directional integration between MailerLite and all your WordPress data, the best option is WP Fusion.
#MailerLite Pricing
MailerLite is priced based on your list size, and all paid plans include unlimited sending.
The free plan allows you to send up to 12,000 emails a month to 1,000 subscribers
Price for 5,000 contacts with unlimited sending: $21 / month
#Self-hosted CRMs
An alternative to using a cloud-based CRM is hosting it yourself on your own site. There are several benefits to this:
You have complete control over your own data and data security
No limits to the number of contacts on your lists
No monthly fees
The downside is that these CRMs take a little more work to set up and maintain. You may need to upgrade your server resources as your contact list grows, and you'll likely still need to pay for a third-party sending service for optimal email deliverability.
#Part One – Standalone
##1 — Mautic
Mautic is an open source CRM and marketing automation tool, but it's not a WordPress plugin like those in the next section, it needs to be installed as an application on your server— similar to installing WordPress. It's maintained by a community of volunteers, and is supported by a commercial version provided by Acquia.
Mautic has all the features you'd expect from one of our "full featured" CRMs: contact management with custom fields, organization via tags and segments, a visual email builder, a drag and drop automation builder, lead scoring, and reports.
While Mautic is open source and completely free, you do need some technical know-how to start using it. To install Mautic you'll need to create a subdomain or subdirectory on your server, upload the installation files via FTP, and set up a database in MySQL to hold your data.
For Mautic segments and campaigns to run automatically you'll need to set up cron tasks via your server's cPanel or an external cron service.
If things like "cron job", "MySQL", and "PHP version" sound foreign to you— Mautic may not be a good choice unless you're willing to spend some extra time or hire someone to assist with setting it up.
#WordPress Integration
Mautic has a free WordPress plugin which enables visitor tracking on your site, and allows you to embed Mautic forms and "dynamic content" from your Mautic app.
Because Mautic doesn't have the market share of a lot of other CRMs, the options for integrating with your WordPress user and customer data is more limited.
There are unofficial addons for some popular plugins, like Gravity Forms Mautic by GravityPlus, or Mautic WooCommerce Integration by MakeWebBetter, but you can end up with a tangle of integration extensions with varying quality and levels of support.
Thankfully WP Fusion fully supports Mautic, and with WP Fusion you can use just one plugin to keep all of your data in WordPress synced bi-directionally with your contacts in Mautic.
For more information on using WP Fusion and Mautic, check out our Introducing Mautic post from 2017.
#Mautic Pricing
Mautic is completely free and can be downloaded from mautic.org. You can either install it on your existing website, or set up a new hosting account just for Mautic.
For best deliverability it's recommended to use an external sending service, like Amazon SES.
Mautic: Free
Email sending via SES: $0.10 per 1,000 emails
---
#Plugin-based CRMs
When we first published this review in 2020 there was only one real CRM + email marketing plugin on the market, Groundhogg.
In the last year, two new plugins have launched, FluentCRM and Autonami.
So, which is the best? We're not going to say 😉
All three products are evolving quickly and each has a group of super loyal fans. There are however some pluses and minuses to each plugin to consider depending on the nature of your business.

#Groundhogg
Groundhogg was the first plugin to launch as an integrated CRM and marketing automation tool, back in 2019. As such it's got a big ecosystem of extensions, and it's very well tested (especially at scale).
The downside is, it's starting to show its age. While the newer marketing automation plugins have integrated visual automation builders (just like we love with ActiveCampaign), Groundhogg has a simpler "Funnel Builder" that lets you create a sales funnel with a series of steps.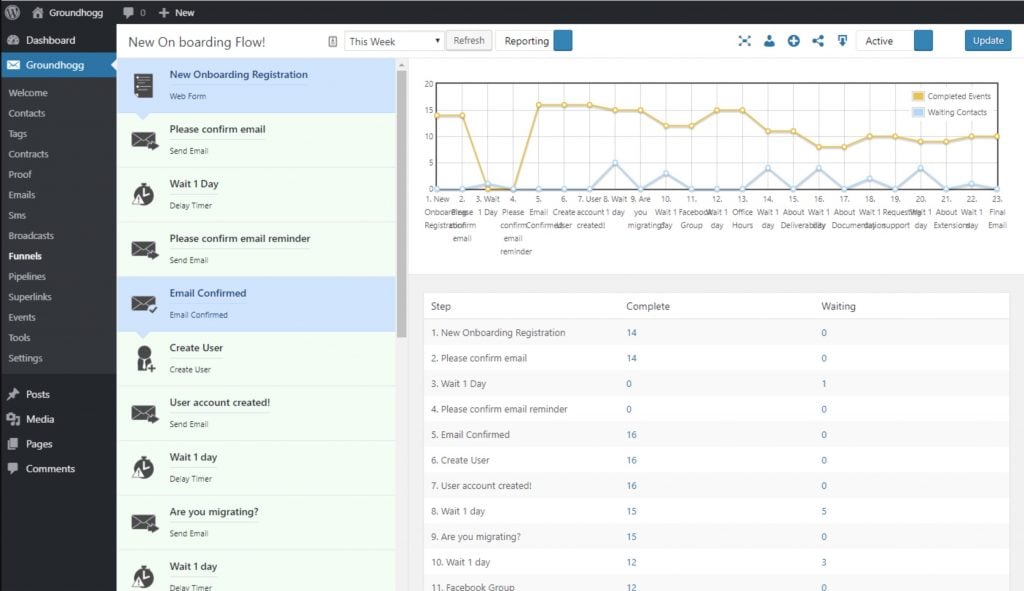 This is good for building sales funnels or anything with a series of steps that have to execute in order, leading to a goal— but it's not great for running automations that might have different conditions / paths, or multiple goals.
With Groundhogg the form builders and email builder are also shortcode based, not visual editors, which is usually slower to work with and harder for new users to learn.
SaaS Comparison? Groundhogg is like the Infusionsoft of WordPress CRM plugins: A bit outdated and hard to work with, but reliable at scale, and with the widest variety of extensions— especially those optimized for "old school" sales like taking notes from calls and assigning sales reps.
#Groundhogg Pricing
There is no limit to the size of your list with Groundhogg, or the number of emails you can send. Instead Groundhogg's pricing is based on which extensions you need, or the bundle plan you purchase.
Groundhogg's recommended bundle, the Pro, is $40 / month (paid annually), which makes it the most expensive of the WordPress plugin CRMs.
To send emails from Groundhogg it's also recommended to use a dedicated email sending service, such as Amazon SES.
Core Groundhogg CRM plugin: Free
"Pro" bundle with extensions: $480 / year
Email sending via SES: $0.10 per 1,000 emails
---
#FluentCRM
FluentCRM launched in September 2020 with a lot of fanfare— since it came from WPManageNinja, the folks behind the already popular Fluent Forms.
FluentCRM redefined what was possible for marketing automation within a WordPress plugin. It has a SaaS-like admin experience that makes finding data and working with records fast and intuitive. Working with FluentCRM will feel very familiar for anyone coming from a cloud-based CRM like ActiveCampaign, ConvertKit, or Drip.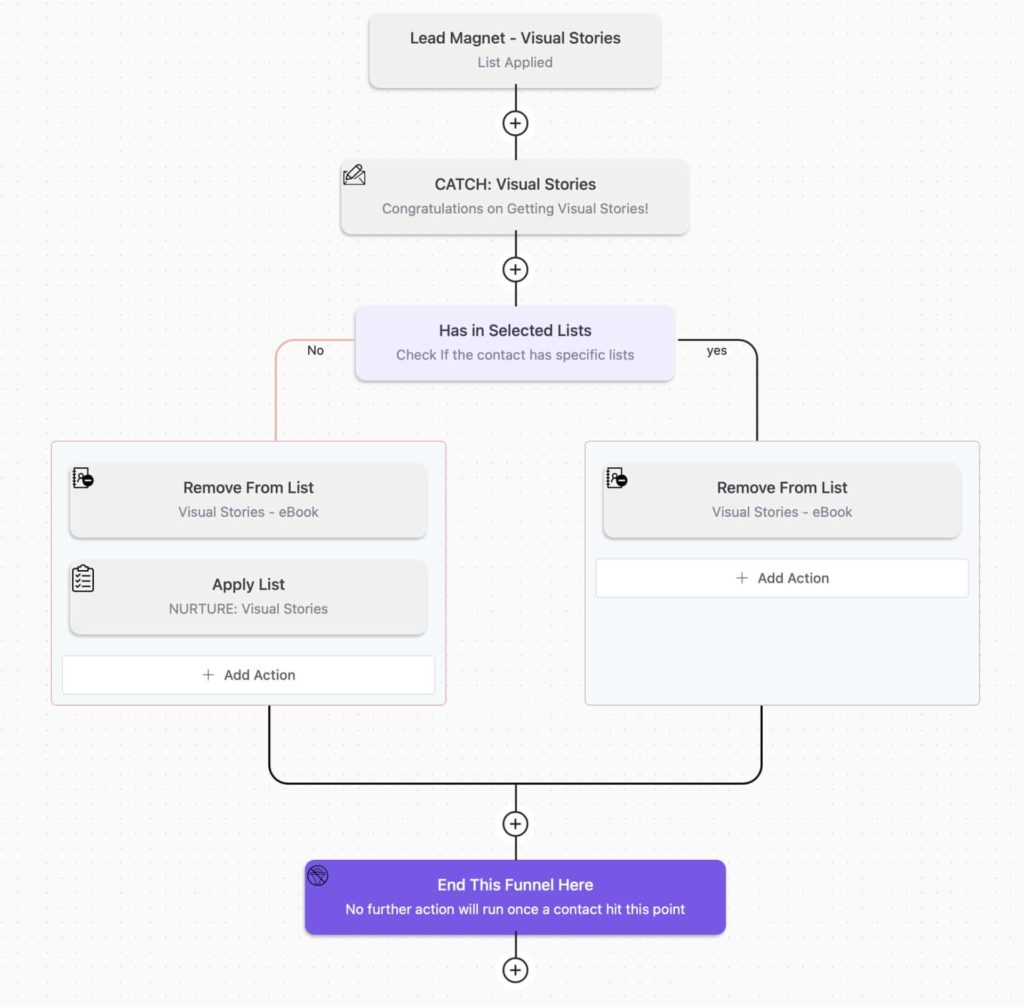 While FluentCRM doesn't have quite as many native integrations with other plugins as Groundhogg does, WP Fusion supports connecting to FluentCRM just like any other CRM, so all of WP Fusion's 100+ plugin integrations work with FluentCRM just like a cloud-based CRM.
In addition, WP Fusion can connect to FluentCRM over the REST API, meaning you can connect multiple sites to a single FluentCRM plugin instance, and keep user and customer data in sync across every site where WP Fusion is installed.
SaaS Comparison? FluentCRM is like the ActiveCampaign of WordPress CRM plugins: It's flexible enough to handle many types of business (ecommerce, membership, learning management, etc), and has modern interfaces with a flexible automation builder and email campaign editor.
#FluentCRM Pricing
FluentCRM's pricing is straightforward, with all extensions and integrations included with all plans.
To send emails from FluentCRM it's also recommended to use a dedicated email sending service. FluentCRM has out-of-the-box support for Amazon SES, Mailgun, SendGrid, SendInBlue, PepiPost, and SparkPost— or you can use your own SMTP server.
Single site license including all integrations: $129 / year
Email sending depends on the provider. Via SES, for example: $0.10 per 1,000 emails
#Autonami
Autonami by WooFunnels is the newest CRM plugin for WordPress, it launched in spring of 2023.
It has a lot of potential, but the learning curve is currently steeper than FluentCRM or Groundhogg— partly because Autonami was designed as an extension for WooFunnels, which is itself an extension for WooCommerce. It can be difficult to get all the right plugins activated at the right versions and at the right time.
Once you get it working though, Autonami has an intuitive interface, with a visual automation builder that includes conditions, timers, and triggers from several plugin sources (i.e. Gravity Forms, WooCommerce, LearnDash, etc.).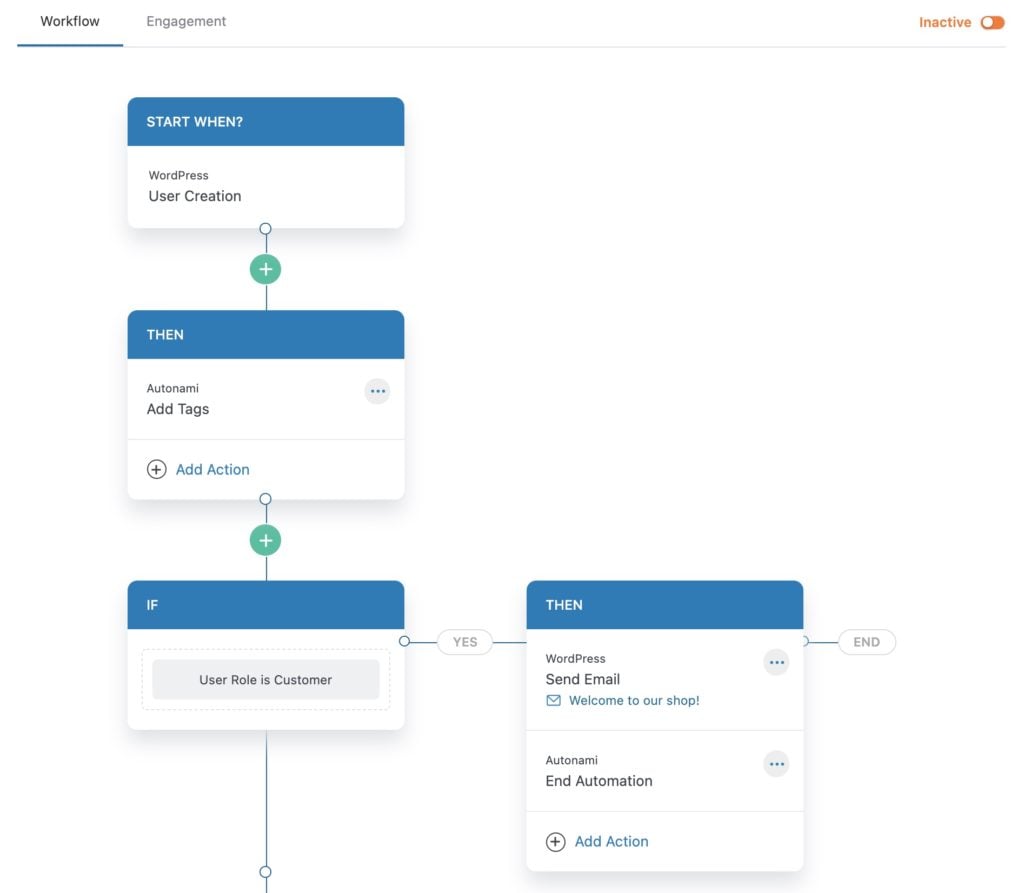 Like FluentCRM, WP Fusion can connect to Autonami over the REST API, meaning you can sync customer data from any number of sites bidirectionally with a single instance of the Autonami CRM plugin.
Because Autonami is from the WooFunnels team, it's optimized for WooCommerce out of the box. For example features like abandoned cart tracking and automatic discounts are built in and easy to set up. The downside of this is that if you're not using WooCommerce, many of Autonami's features are unavailable.
SaaS Comparison? Autonami is like the Klaviyo of WordPress CRM plugins: It's super optimized for ecommerce, and includes everything you need to market to your WooCommerce customers via email and SMS, including built in tools and pre-built campaigns for abandoned cart recovery, automatic discounts, and upsells / cross-sells (via WooFunnels).
#Autonami Pricing
Autonami's pricing is also straightforward, with all features included for a single annual fee.
To send emails from Autonami it's also recommended to use a dedicated email sending service, like Amazon SES.
Single site license including all integrations: $129 / year
Email sending depends on the provider. Via SES, for example: $0.10 per 1,000 emails
---
#Which CRM do I choose?
If you ask a dozen people which CRM or marketing automation tool to use, you'll likely get a dozen answers.
Our recommendations in this list are based on our own experiences with helping thousands of WP Fusion customers integrate their WordPress site with their CRM— all eight of these platforms are reliable, being actively developed, and provide a good balance between features and price.
Whichever platform you use, you'll want the best possible integration with your WordPress site, and for that we hope you'll choose WP Fusion.