If you're an organization using GiveWP to collect donations, you may be looking for ways to streamline and optimize your donor management and communication efforts.
One solution you may want to consider is WP Fusion, a plugin that connects GiveWP with HubSpot, a marketing automation platform.
In this post, we'll explain what WP Fusion is and outline the benefits of using it to connect GiveWP and HubSpot. We'll also provide step-by-step instructions for setting up WP Fusion and offer some tips for troubleshooting and optimizing the integration.
#What is WP Fusion?
WP Fusion is a plugin that enables you to sync data between your WordPress website and your HubSpot account. It allows you to seamlessly integrate GiveWP, a WordPress plugin for managing donations, with HubSpot, a powerful CRM and marketing automation platform.
This integration allows you to centralize your donor data and communication efforts, and automate many processes to save time and increase efficiency.
#Benefits of using WP Fusion to connect GiveWP and HubSpot
There are several benefits to using WP Fusion to connect GiveWP and HubSpot for your organization's donor management and communication efforts:
Improved donor communication: WP Fusion allows you to sync donor data between GiveWP and HubSpot, so you can have a complete view of your donors in one place. This means you can easily segment your donor list and create targeted email campaigns or other communications based on donor interests, donation history, browsing activity on your website, and more.
Enhanced tracking and analysis: By integrating GiveWP and HubSpot, you can track and analyze your donor data in greater detail. This can help you understand donor behavior and preferences, generate reports on trends and patterns, and make informed decisions about your fundraising efforts.
Streamlined donation process: WP Fusion makes it easy to track donations and manage donor communications within HubSpot. This means you can automate many tasks, such as sending thank-you emails or updating donor profiles, to save time and effort.
Increased efficiency and productivity: By using WP Fusion to connect GiveWP and HubSpot, you can streamline your donor management and communication processes and free up time to focus on other important tasks. This can help you work more efficiently and effectively, and ultimately, better serve your donors.
#How to set up WP Fusion for GiveWP and HubSpot
Setting up WP Fusion to connect GiveWP and HubSpot is relatively straightforward. Here's a step-by-step guide to get you started:
Install and activate WP Fusion on your WordPress website.
Go to the WP Fusion settings page, and from the Select CRM dropdown, select HubSpot.
Click the blue Authorize button, and sign in to HubSpot to authorize WP Fusion.
Once the setup is complete, save the settings.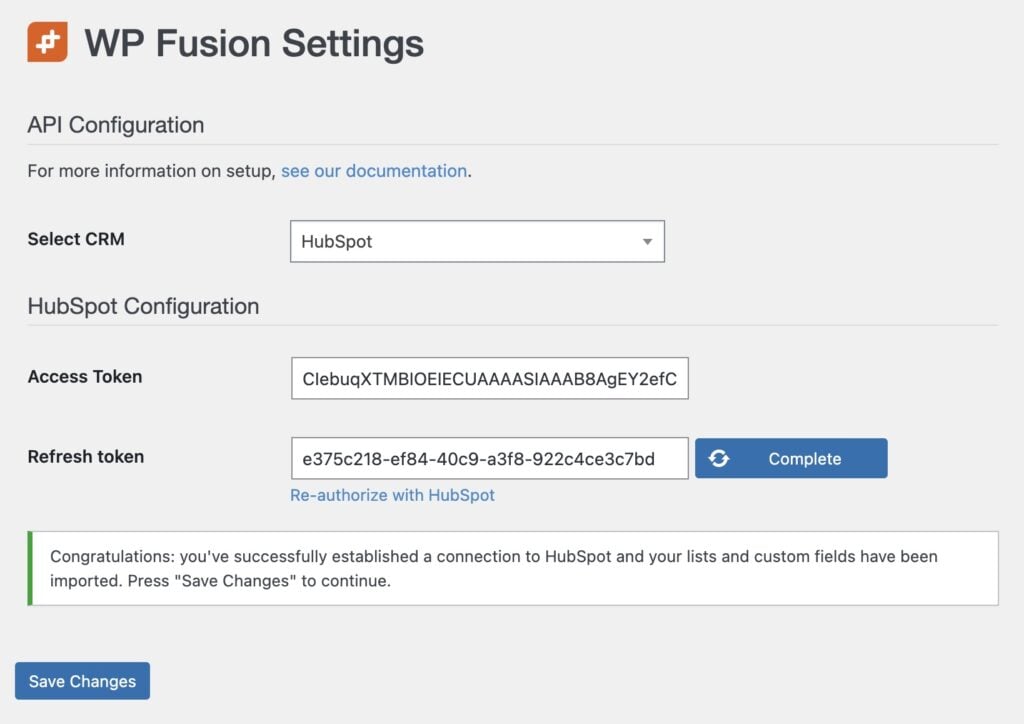 That's it! Your new Give donors will automatically be synced to contact records in HubSpot 🎉
#Segmenting donors
HubSpot makes use of lists for segmenting your donors in the CRM. The next step is to use WP Fusion to connect your donation forms with HubSpot lists.
Head to any GiveWP donation form in the WordPress admin, and from the Donation Options tab, select a list in HubSpot to use for each donation level.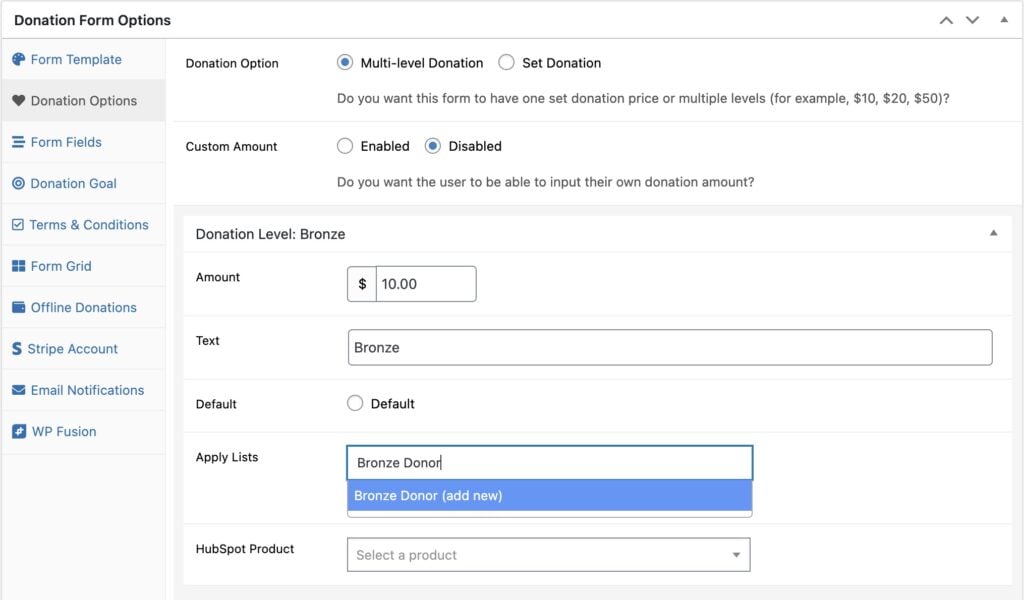 If a list doesn't exist yet, WP Fusion will prompt you to create a new one.
#Syncing donors
By default, WP Fusion will sync your donors to HubSpot with their name and email address.
You can enable additional donor fields for sync in the Contact Fields section of the WP Fusion settings.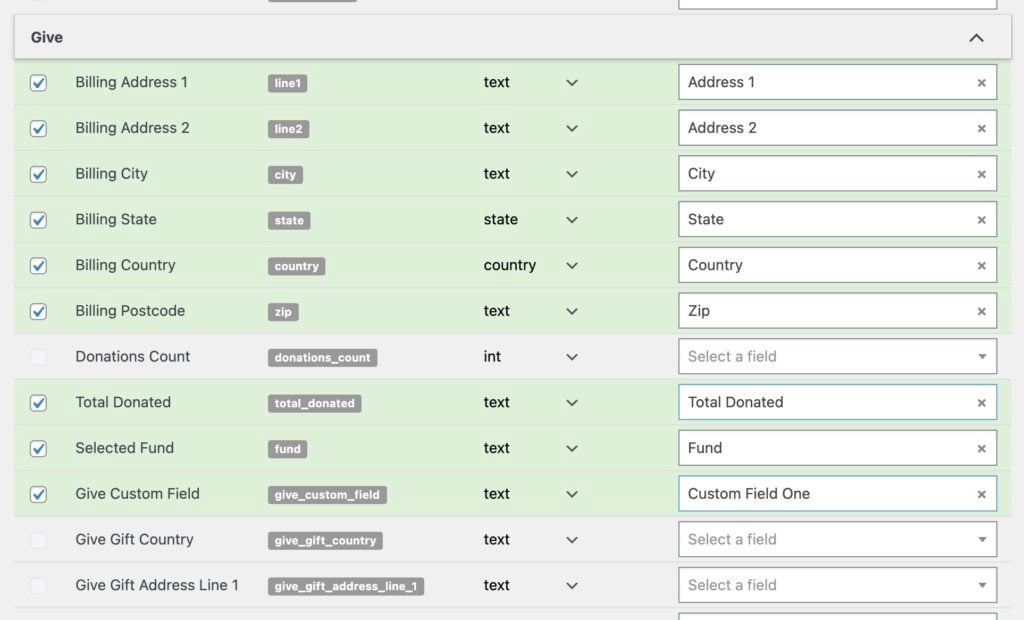 Additional fields can include the donor's address, their selected fund (when using the Funds and Designations addon), or custom fields you've collected on the donation form— like dietary preferences, or a selection of a special gift 🎁
#Collecting opt-ins
WP Fusion makes it easy to collect opt-ins on your donation forms. Just enable the Email Optin checkbox in the WP Fusion settings.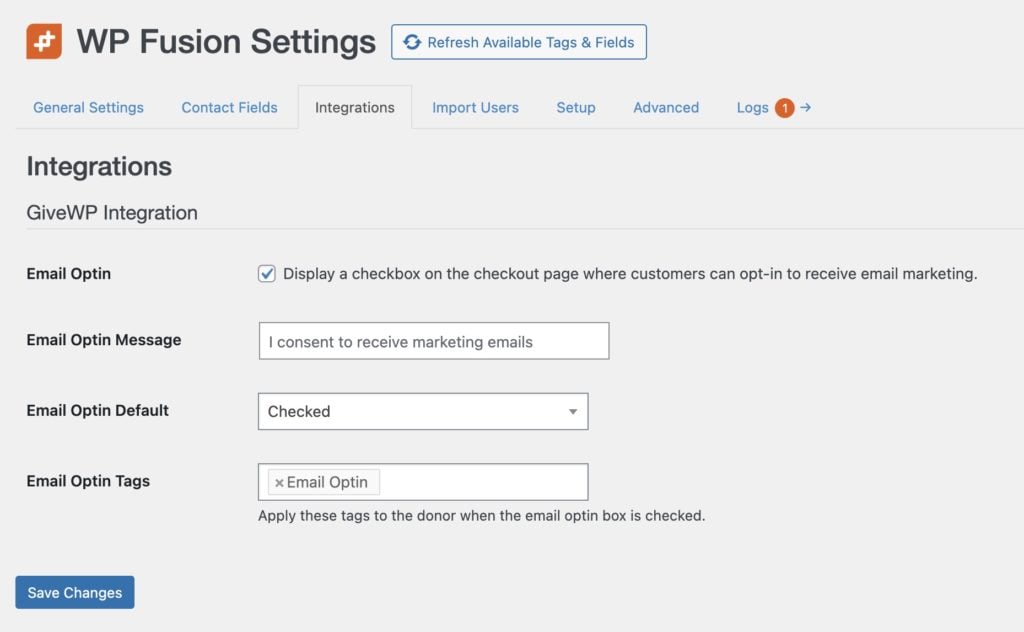 And a checkbox will automatically be added to your donation forms: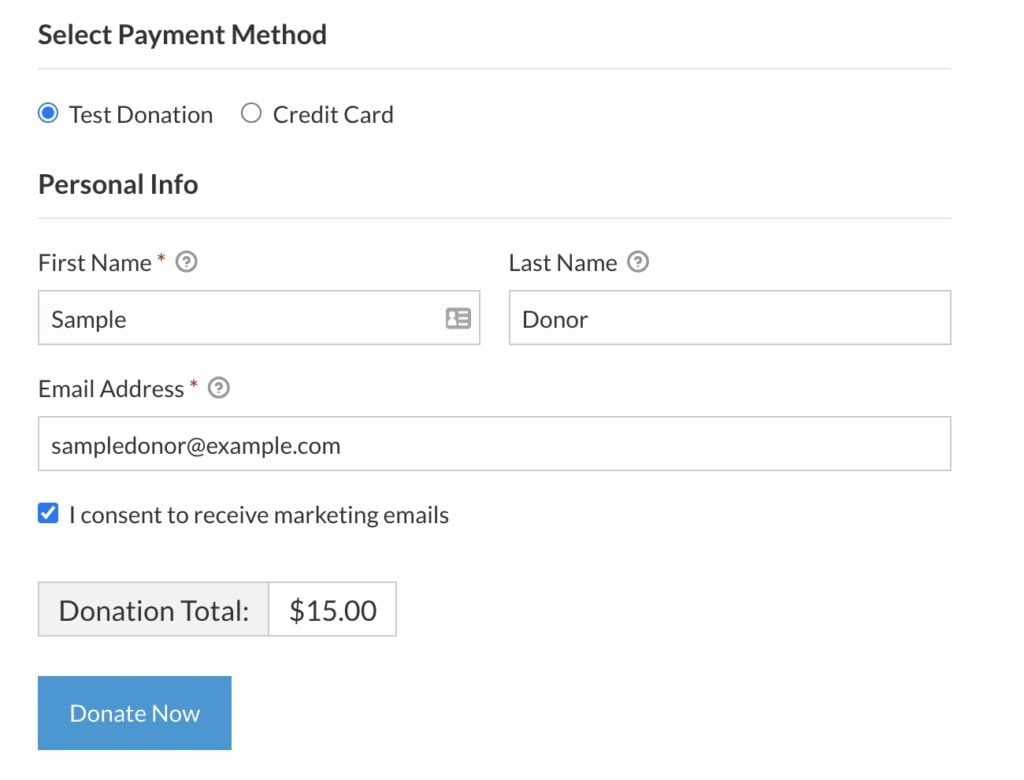 When donors opt in to marketing, WP Fusion will automatically add them to the selected list in HubSpot. You can then use this list as a condition in your marketing campaigns to make sure donors don't receive unwanted emails.
#Syncing donations with sales pipelines
Using WP Fusion's Enhanced Ecommerce addon, it's possible to sync GiveWP donations with deals in HubSpot's sales pipelines.
This can be a useful way to track and manage your organization's fundraising efforts and better understand your donors' behavior and preferences.
To enable the integration, simply activate the Enhanced Ecommerce addon for WP Fusion, and select a pipleine and stage for new donations from the Enhanced Ecommerce tab in the WP Fusion settings.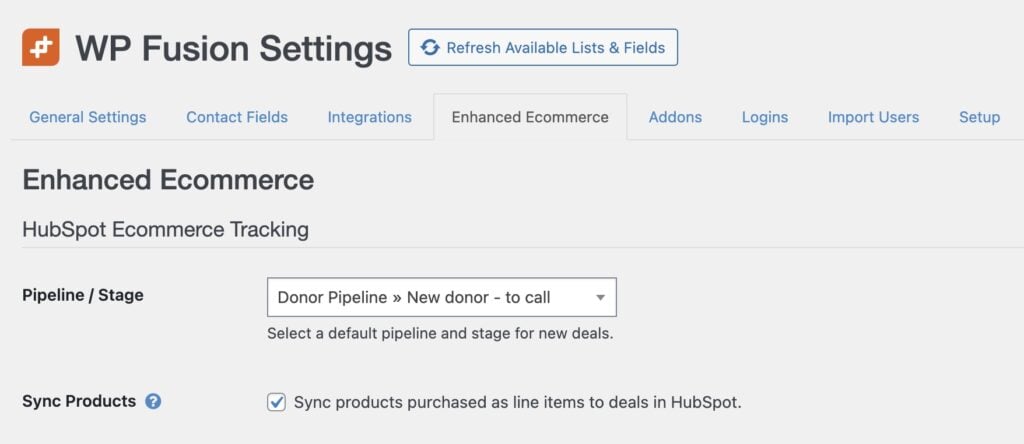 Once you have set up the integration, WP Fusion will automatically create a new deal in your selected sales pipeline and stage in HubSpot for each donation made through GiveWP.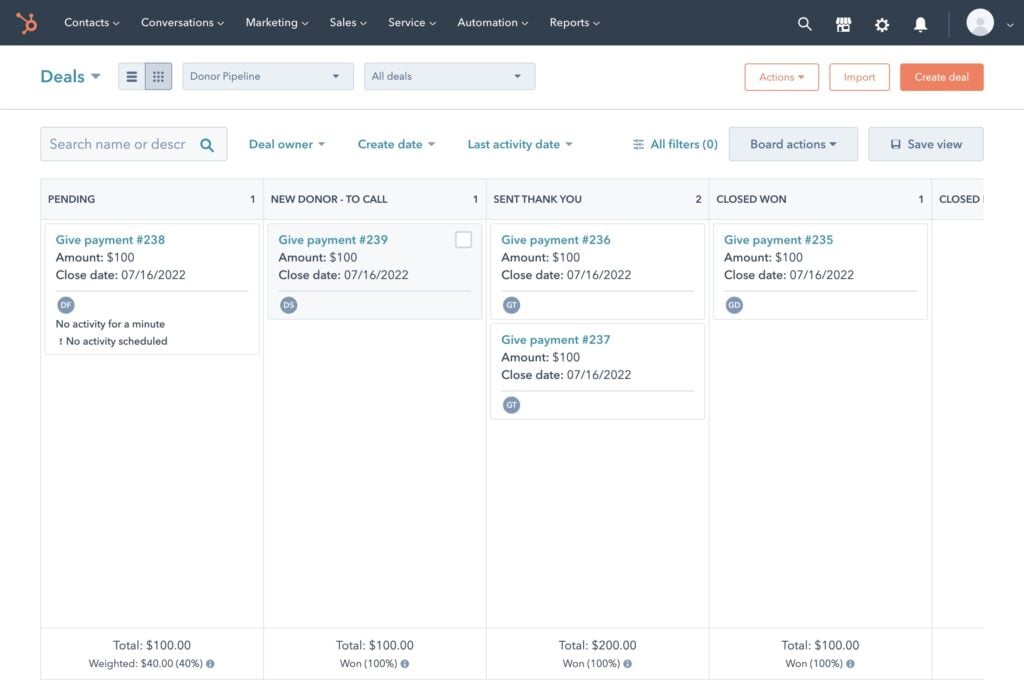 The deal will include the donor's name, email address, donation level, and donation amount. You can then use HubSpot's sales pipeline features, such as deal stages and task assignments, to manage and track your organization's fundraising efforts.
#Exporting from GiveWP to HubSpot
If you have an existing GiveWP website, WP Fusion makes it easy to export your historical donors and donations to HubSpot.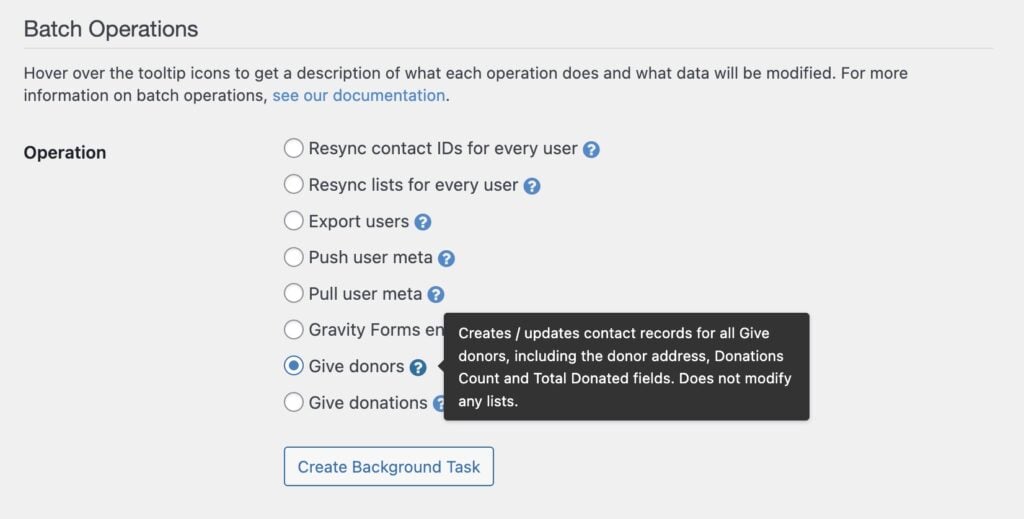 Just head to the WP Fusion settings page in your WordPress admin, select the export you'd like to perform, and click the button to start the process.
#Setup in HubSpot
Once your GiveWP data is in HubSpot, you can begin to take advantage of HubSpot's powerful features for marketing and analytics.
#Send an email campaign
HubSpot includes a powerful email designer. Create email campaigns to send news and updates to your donors, or try to reach out to potential donors.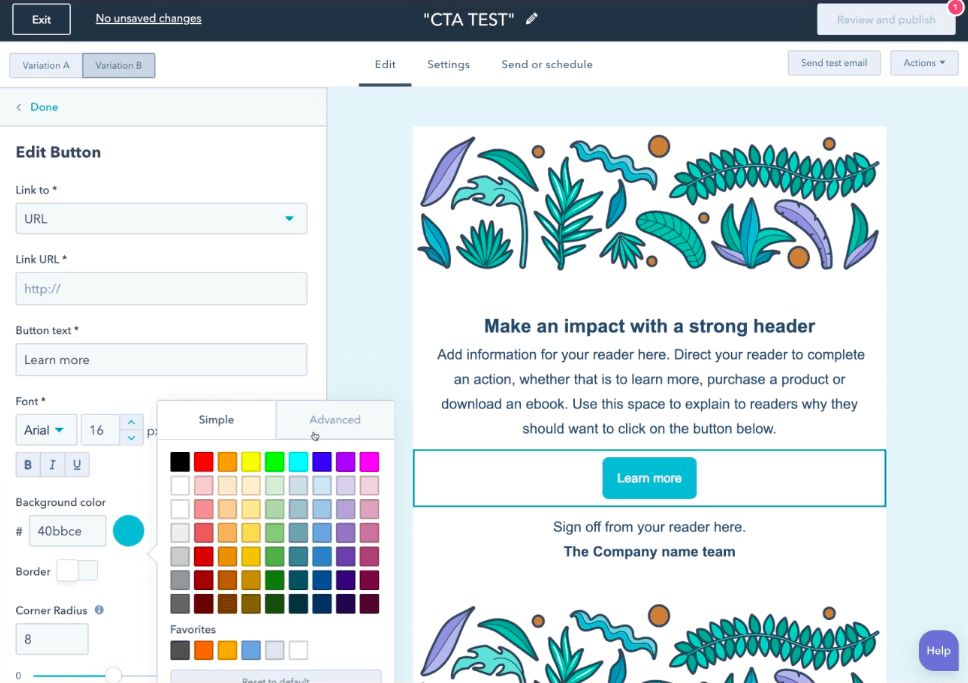 Using HubSpot's A/B testing features and email analytics, you can see which campaigns are performing most effectively.
#Create automated workflows
With the paid HubSpot plans (Marketing Hub Professional and higher), you can also create automated email sequences using Workflows.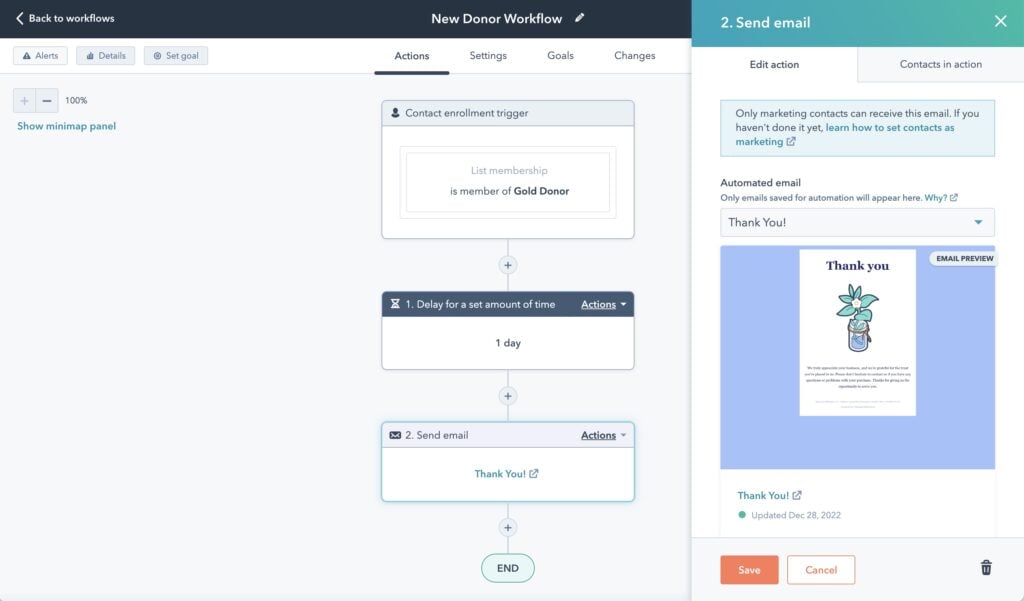 Workflows can send emails, SMS messages, and update marketing audiences using timers and conditional logic. For example
Send a thank you email sequence to new donors
Send a satisfaction survey to new donors, and create a task to follow up personally if they had any problems with the donation process
Send a WhatsApp message prompting Bronze subscribers to upgrade to the Gold level
#Create custom reports
HubSpot makes it easy to create custom reports to answer even your most complex questions by seamlessly connecting your CRM contact, company, and deal data alongside your marketing, sales, and service data.
Custom reports can be organized into different dashboards for different members of your team. You can even setup automated email summaries for your most important charts and dashboards.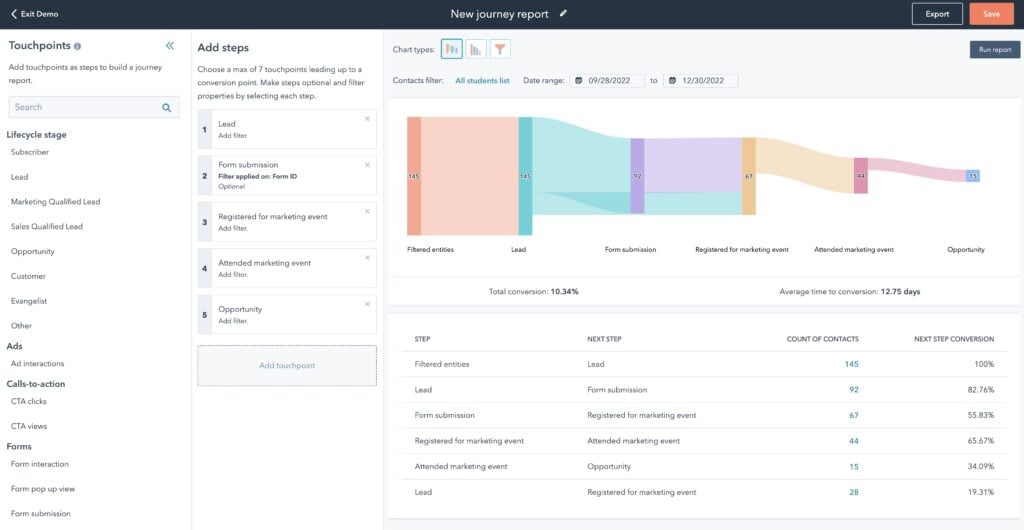 Using WP Fusion with GiveWP connected to HubSpot enriches your reporting data even further. Using WP Fusion you can collect data points like:
The visitor's original referrer or advertising campaign ID
The visitor's original landing page
Page views on your site
Link clicks and button presses
Form submissions
Donations and payments
Using this data you can create reports which visualize the entire donor journey— allowing you to identify weaknesses and opportunities in your marketing activities.
#Tips for troubleshooting and optimizing the integration
If you run into any issues while setting up WP Fusion to connect GiveWP and HubSpot, here are a few tips to help you troubleshoot and optimize the integration:
Make sure you have the latest version of WP Fusion and GiveWP installed on your WordPress website.
Consider using the WP Fusion logs to troubleshoot any issues you encounter. The logs can provide valuable information about what's happening behind the scenes and help you identify the root cause of any problems.
Once you have WP Fusion set up and working properly, be sure to optimize the integration to suit your organization's specific needs. For example, you may want to customize your lists to better reflect your donor levels, or create custom fields to track additional data points.
#Conclusion
WP Fusion is a powerful tool for organizations using GiveWP and HubSpot to manage donor communication and collect donations.
By connecting these two platforms, you can improve donor communication, enhance data tracking and analysis, streamline the donation process, and increase efficiency and productivity.
While setting up WP Fusion may require some initial effort, the benefits of the integration are well worth it. If you're interested in optimizing your donor management and communication efforts, we recommend giving WP Fusion a try.