Let's face it— WooCommerce is the undisputed king of ecommerce among WordPress websites. As of last estimate, it's powering over six million stores.
We love WooCommerce at WP Fusion and have been using it extensively for years.
For collecting email optins, selling subscriptions, tracking event registrations, or visualizing rich order data in your sales CRM— WP Fusion has you covered.
WP Fusion connects WooCommerce itself and eighteen (and counting!) WooCommerce extensions to any one of 50+ CRMs and email marking systems. You could say we're WooCommerce experts 🤓.
But, with all of that flexibility comes a lot of complexity, and we often see customers who are overwhelmed and frustrated by the process of setting up their first WooCommerce site.
#A first day with WooCommerce
Let's look at a typical WP Fusion customer who might be new to WooCommerce. They have an email list in ActiveCampaign (or other marketing platform) that they have built up over many years.
They're considering WordPress because they want to add a simple membership area or course for their subscribers, and they're afraid of getting locked into a hosted platform like Kajabi or Thinkific.
They need a simple way to give their ActiveCampaign subscribers access to their membership content, as well as a way of selling access to new customers who want to join.
They sign up for a hosting service (like Cloudways) and in a few clicks, they're looking at the admin of their new WooCommerce site. This is where things get complicated.
Let's add a new product:
Input overload! 🤯
What are "tags"? What are "categories"? Why is it asking for weight and dimensions? Should I select Virtual, Downloadable, or both? How do I configure monthly billing?
Through a lot of research, trial, and error you might come to learn:
After configuring your store's settings and publishing your first product, you visit the product page to see what the experience is like for real customers.
You click Purchase on your product and are taking to a shopping cart. Why does a membership product need a shopping cart?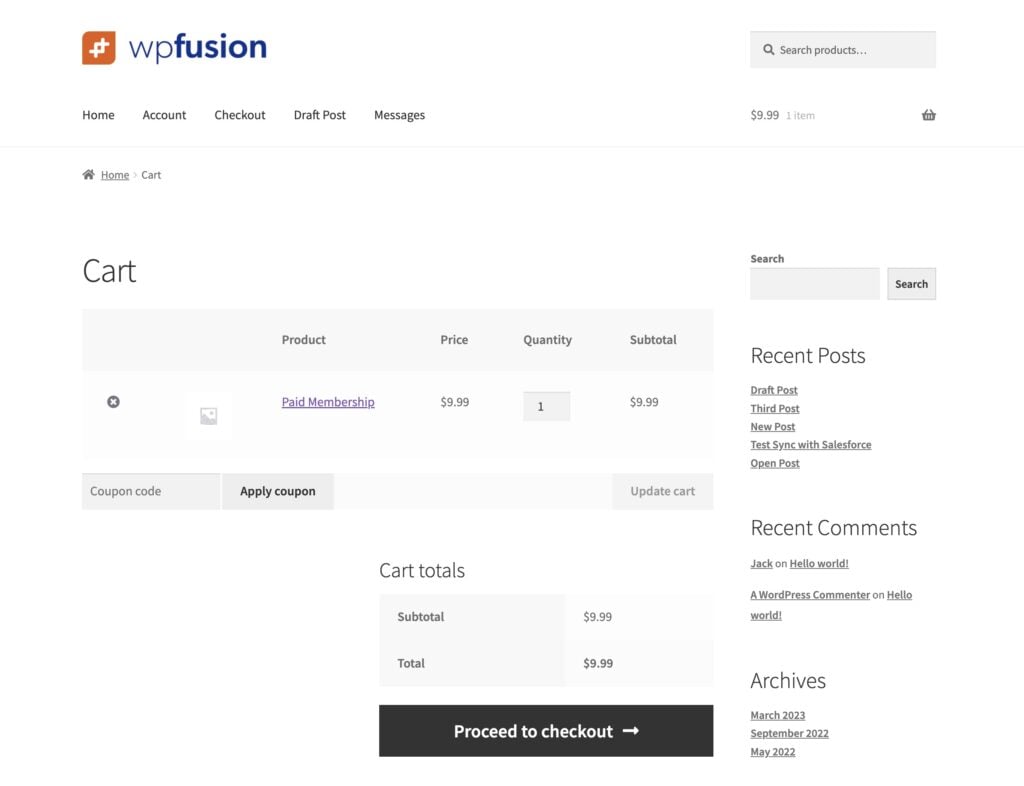 You reach the checkout and again— it's input overload!
Why do I need to collect shipping information? Why does the sidebar show my recent blog posts?
These problems are again fixable with more addons:
This is all to say— WooCommerce is powerful, but it takes a lot of setup and customization just to make your first sale.
#Let's take a look at SureCart
SureCart is a WooCommerce alternative that helps you get up and running with selling your digital (or physical products) in as few steps as possible.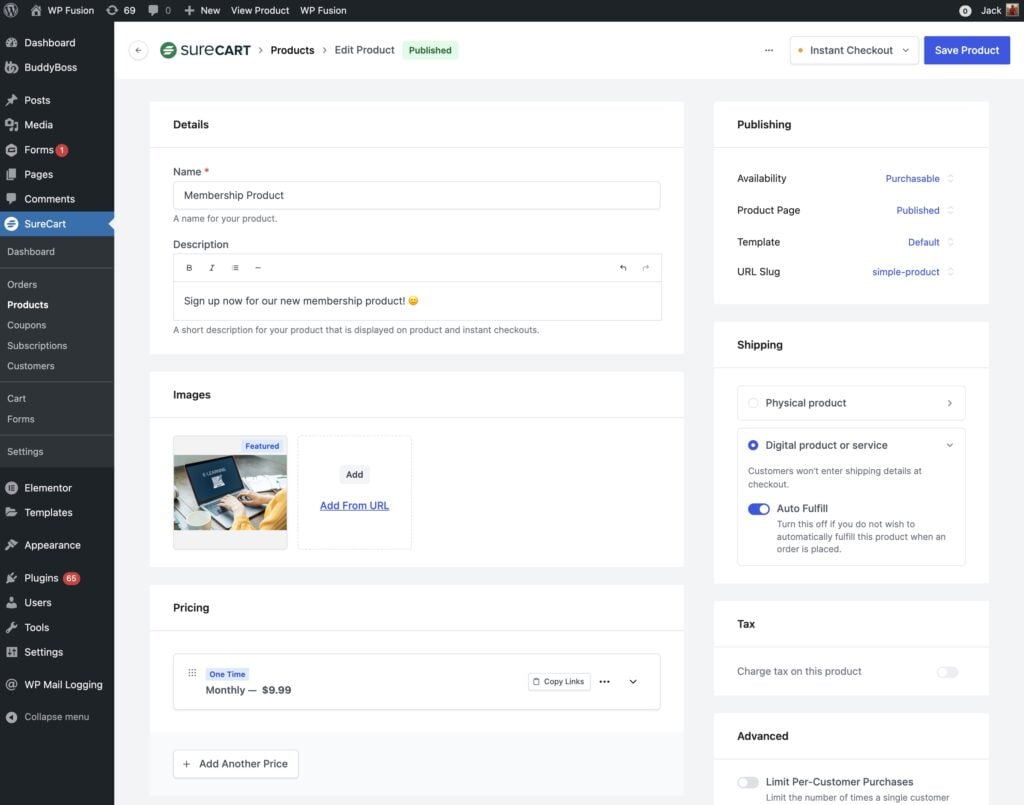 Setup is painless. We click Add New and create a new product, enter the name, add a description and create a payment plan.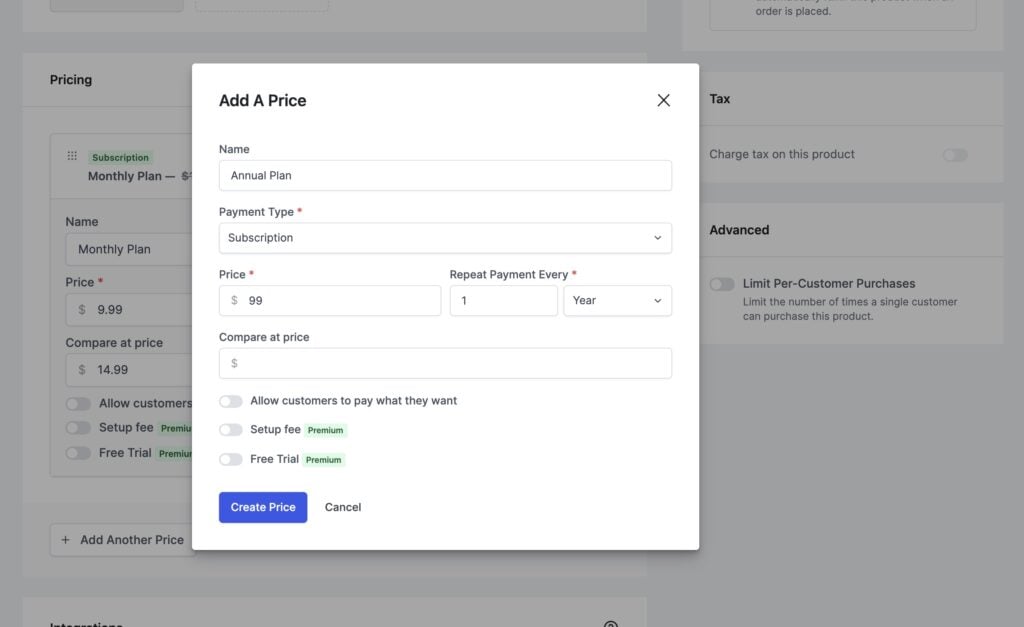 SureCart creates a one-click checkout link that takes customers to a conversion-optimized checkout screen— no extra fields or distractions.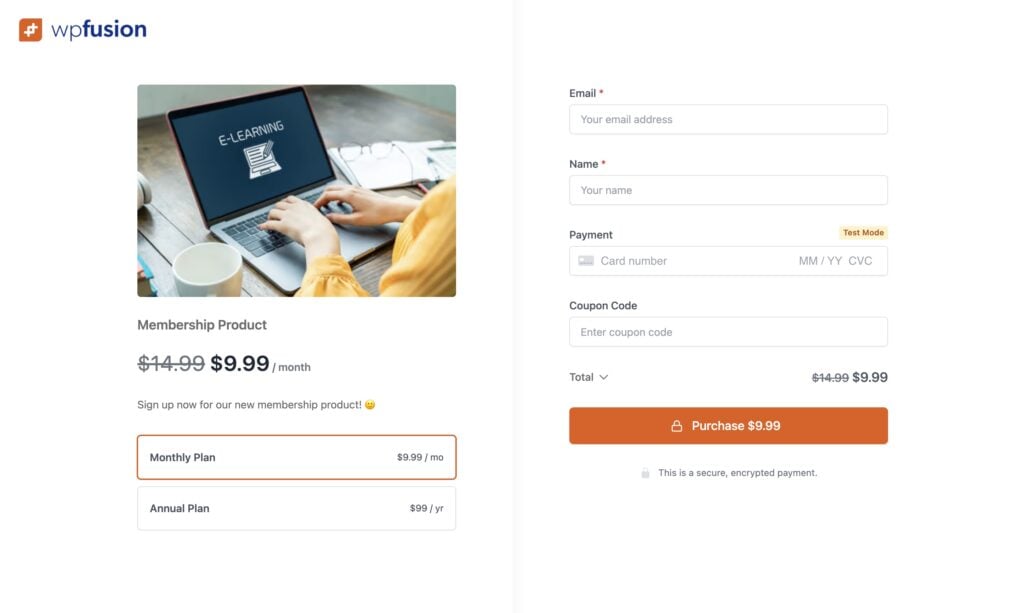 This is all done with a single plugin— in just a few minutes you can be up and running.
Let's go deeper into why SureCart might be a good WooCommerce alternative for you.
#Benefits of SureCart
Gone are the days of grappling with endless settings. SureCart takes the complexity out of e-commerce, allowing you to focus on what matters most—selling your products or services.
In just a few minutes you can be up and running with SureCart, without the need for a tech-savvy team or extensive customization.
SureCart's simplicity doesn't compromise its capabilities. It still offers essential e-commerce features like multiple built-in payment gateways, digital downloads, SEO-optimized product pages, coupons, and abandoned cart recovery.
Get Automated. Get WP Fusion.
Sync your SureCart customers with your email marketing platform in real time with WP Fusion.
Buy WP Fusion
Whether you're selling online courses, memberships, physical products, or taking donations— SureCart's user-friendly interface ensures a smooth experience for both you and your customers.
What's more, SureCart is an excellent choice for those who want to avoid the excessive fees and complexities often associated with e-commerce.
With WooCommerce, you might find yourself tangled in a web of payment gateway fees, subscription costs, and third-party services for sales tax or VAT compliance. SureCart, on the other hand, provides all of this functionality out of the box, ensuring that you keep more of your hard-earned revenue.
Now, let's circle back to our hypothetical WP Fusion customer who wanted to simplify their e-commerce experience.
With SureCart, they could have avoided the frustration of WooCommerce's steep learning curve and endless addons. Instead, they'd be selling their courses or memberships effortlessly, all while connected to WP Fusion for enhanced CRM and marketing automation integration.
#How does WP Fusion work with SureCart?
WP Fusion includes a native SureCart integration that automatically syncs your customers in real time with your connected CRM or marketing automation platform as they check out on your store.
This works out of the box and requires no extra setup 🔥.
Get Automated. Get WP Fusion.
Segment SureCart customers in your CRM using tags and lists with WP Fusion.
Buy WP Fusion
In addition, WP Fusion integrates with the SureCart product editor to let you apply tags or lists in your CRM as customers check out on your store— letting you segment customers based on their product purchases.
Using WP Fusion's tag-based content protection features, you can then easily unlock pages, courses, menu items, popups, and other content on your site.
Or, take advantage of SureCart's growing list of integrations with popular plugins like:
BuddyBoss
LearnDash
LifterLMS
MemberPress
and SureMembers
#Conclusion
In conclusion, while WooCommerce remains a powerhouse in e-commerce, it may not suit everyone's needs, especially those looking for a straightforward solution without a lot of bells and whistles.
SureCart offers a compelling alternative for individuals and businesses seeking simplicity, speed, and a user-friendly approach to online selling.
So, if you're tired of wrestling with WooCommerce's intricacies and want a streamlined e-commerce experience, it might be time to look at SureCart as a WooCommerce alternative. Explore SureCart and WP Fusion through the links above, and don't forget to share your thoughts and experiences in the comments below.
Make the switch to SureCart, and simplify your WordPress e-commerce journey today!
Get Automated. Get WP Fusion.
Sync your SureCart customers with your email marketing platform in real time with WP Fusion.
Buy WP Fusion