Overview
WP Fusion integrates with WooCommerce to add customers your CRM when they make a purchase on your site, and tag them based on products purchased.
You can also use WP Fusion to restrict access to products and product variations, as well as track coupon usage, and auto-apply coupons based on CRM tags.
Syncing customer data and custom fields
By default, when a customer checks out on your store, a new contact will be created in your CRM with their first name, last name, and email. You can enable additional fields for sync from the Contact Fields tab in the WP Fusion settings.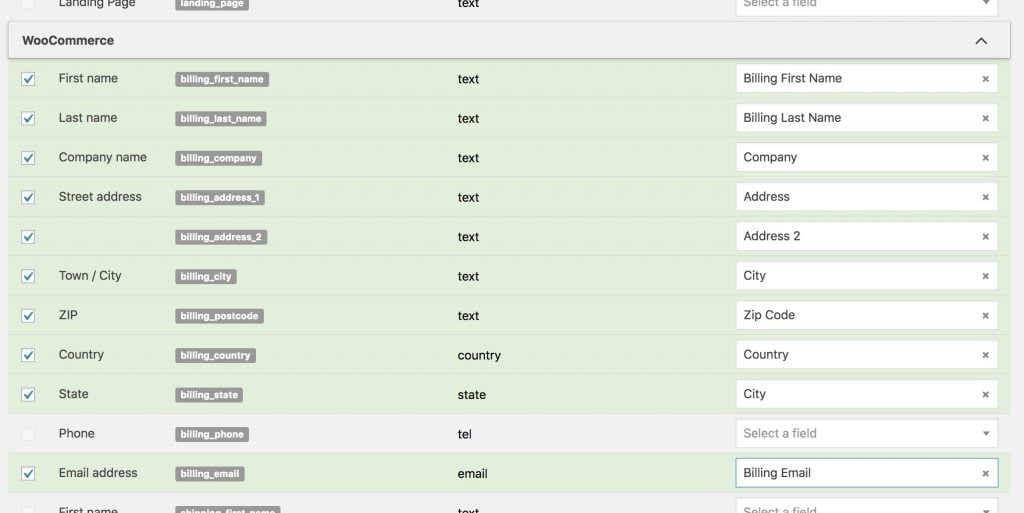 Attribute Fields
If you're selling variable products, WP Fusion also supports syncing selected attributes to custom fields in your CRM.

Under the WooCommerce Attributes header you'll see all of the available attributes from your products. When a customer checks out the selected attribute will be stored in the corresponding custom field.
General settings
WP Fusion has some general settings for WooCommerce. These can be found on the Integrations tab in the WP Fusion settings.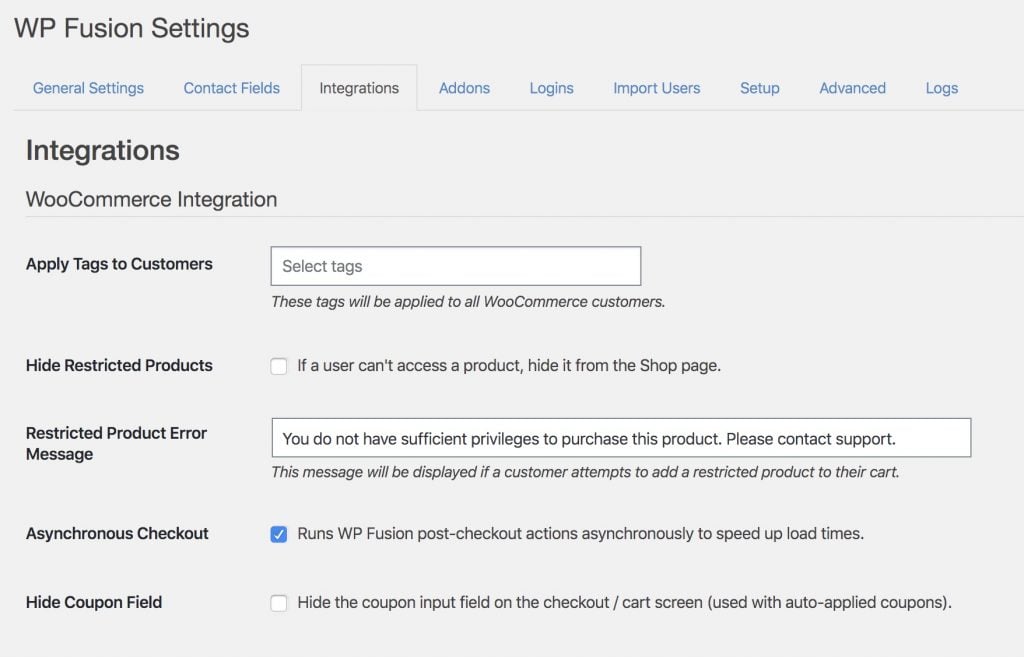 Those options are:
Apply Tags to Customers: The tags specified here will be applied to all WooCommerce customers, when an order is placed.
Hide Restricted Products: If you've configured access rules on an individual product, turning on this option lets you completely hide products from your store if the user doesn't have the required tags.
Restricted Product Error Message: The message here will be displayed when someone tries to add a restricted product to their cart.
Asynchronous Checkout: When this is enabled WP Fusion runs WooCommerce order actions in the background, after the checkout has completed. This makes the checkout process faster, but it can sometimes have problems with caching or security plugins.
Hide Coupon Field: If you're using automatic discounts, enabling this option lets you hide the coupon input field on the checkout.
Automatic tagging
With some CRMs WP Fusion supports automatically generating and applying tags based on certain variables when someone makes a purchase in WooCommerce.
If your CRM supports this feature, these settings will appear on the Integrations tab in the WP Fusion settings: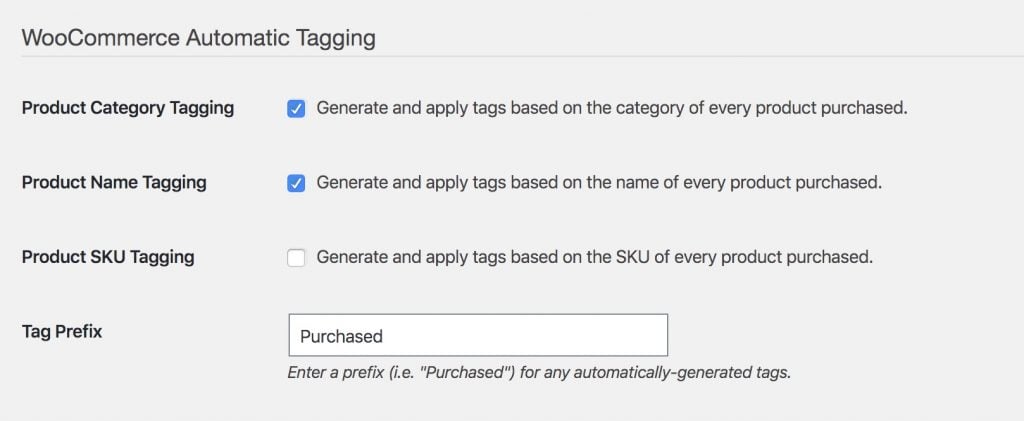 The Tag Prefix will be appended to any of the automatically generated tags. This field also accepts the shortcode [[status]] to dynamically insert the status of the order. For example if someone purchases a product Widget and the order status is Processing, you could set the Tag Prefix field to
Purchased – [status] –
This would apply the tag Purchased – Processing – Widget.

Order status tagging
WP Fusion also includes an option where you can apply tags to a customer in your CRM when their order status changes in WooCommerce. For example if you manually mark an order as "Shipped", an automated email could be sent through your CRM to customers.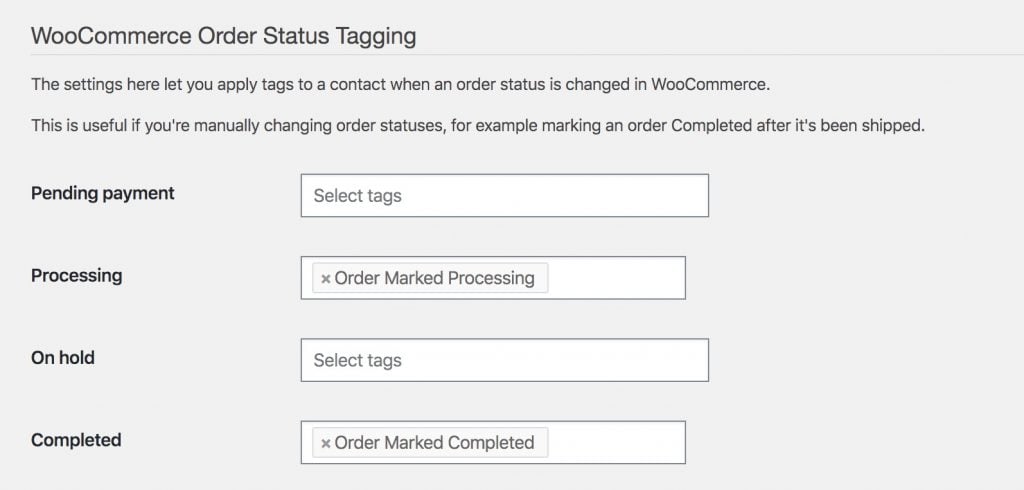 Tagging customers
WP Fusion gives you a variety of ways to tag your WooCommerce customers in your CRM. The simplest method is to tag based on the product purchased, but you can also apply tags to all customers as a global setting, or based on product categories.
Product setup
When WP Fusion is active, you'll see a new tab on the WooCommerce product settings where you can specify tags to be applied when that product is purchased, refunded, or when an initial transaction fails.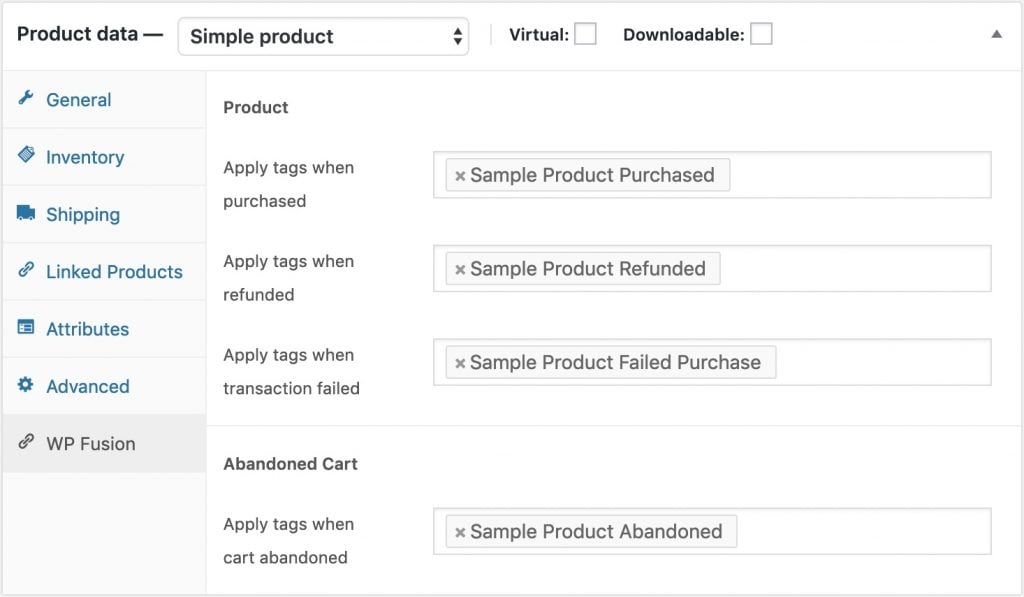 You may see additional fields for Subscriptions or Deposits if you are using those plugins.
If the Abandoned Cart Addon is active you can also configure tags to be applied when the product is left in an abandoned cart.
Variable products
If you're using variable products, you can also specify tags to be applied at purchase per-variation. These are visible when editing the variation, alongside the price and other details.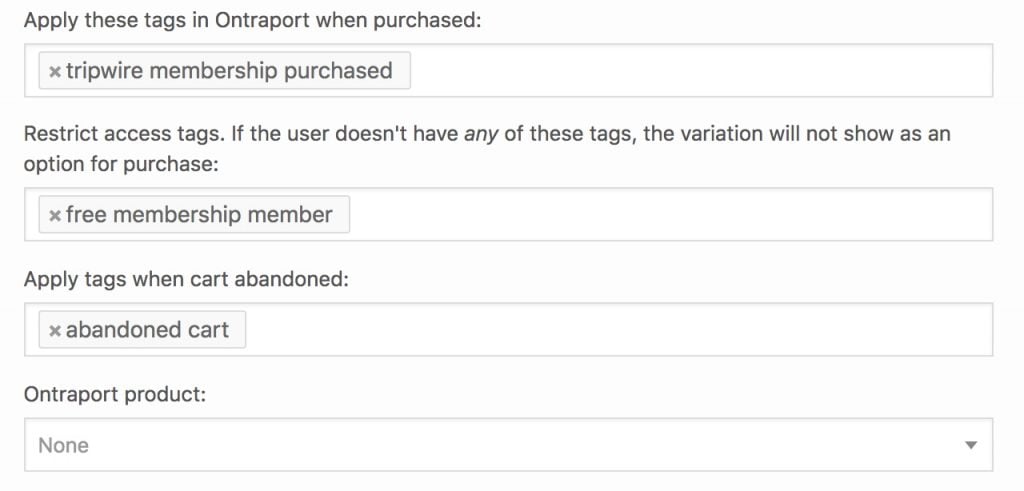 WP Fusion also gives you the option to only show specific variations to users based on their tags. This can be used to offer special products or pricing to existing members.
Category tagging
You can also specify tags to be applied at the category level. To do this click Edit on any product category, and you'll see a setting where you can specify tags to be applied.

Refunds
If an order is marked Refunded in WooCommerce, the tags specified in Apply tags when purchased will automatically be removed. You can also optionally specify tags to be applied when an order is refunded using the Apply tags when refunded setting.
Coupons and Discounts
While editing any coupon, you can specify tags to be applied to the customer if the coupon is used.
Restricting access to coupons
You can require a user to be logged in and to have a specific tag to use a coupon code. This can be set from the Required Tags setting on the Usage Restriction tab in the coupon settings.
Auto-applying discounts
You can also automatically grant coupons to customers based on their tags in your CRM.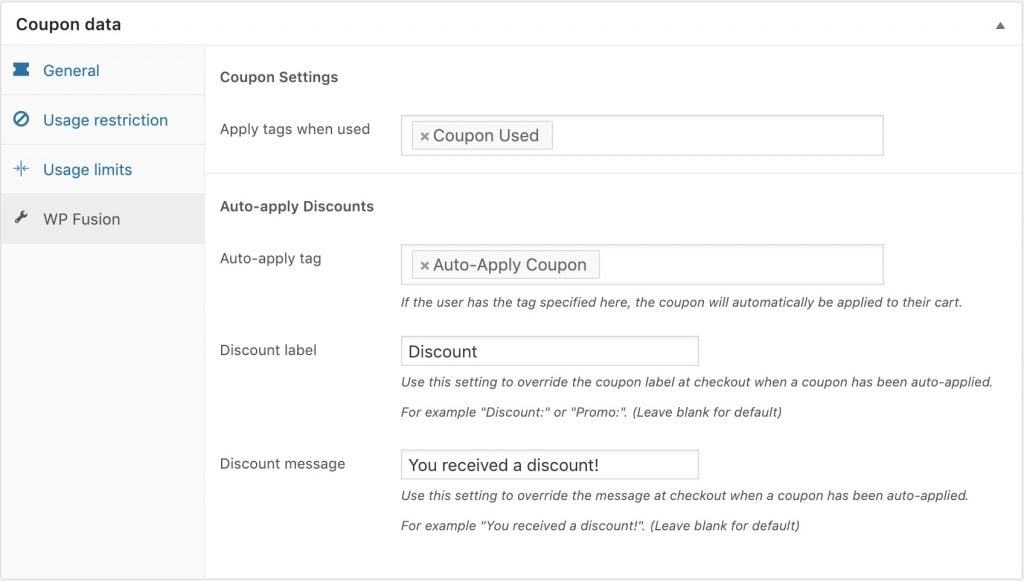 If the user has any one of the specified tags, the discount will be applied when they add a product to their cart. This feature also works with our auto-login links.
Discount labels
You can optionally override the coupon labels shown on the cart and at checkout. The Discount label is displayed in the order summary.
By default this will be the coupon code of the applied coupon, but here we've overridden it to say "Discount". You could set this to say something like "Member Discount" or "Loyalty Program".
The Discount message is shown at the top of the cart or checkout when the coupon is applied.

By default this will say "Coupon code applied successfully." Here we've overridden it to say "You received a discount!"
Product Availability
You have the option to restrict access to a product unless a user has a certain tag applied to their account.
This is a great way to offer up-sell products or add-ons for your existing users. For more information on restricting content, see the documentation on meta box setup.
Syncing historical orders
If you already have an existing WooCommerce store, you can use WP Fusion to sync all historical orders to your CRM.
First configure your products with any tags you'd like to be applied when purchased. Then navigate to Settings » WP Fusion » Advanced and scroll down to the Batch Operations section.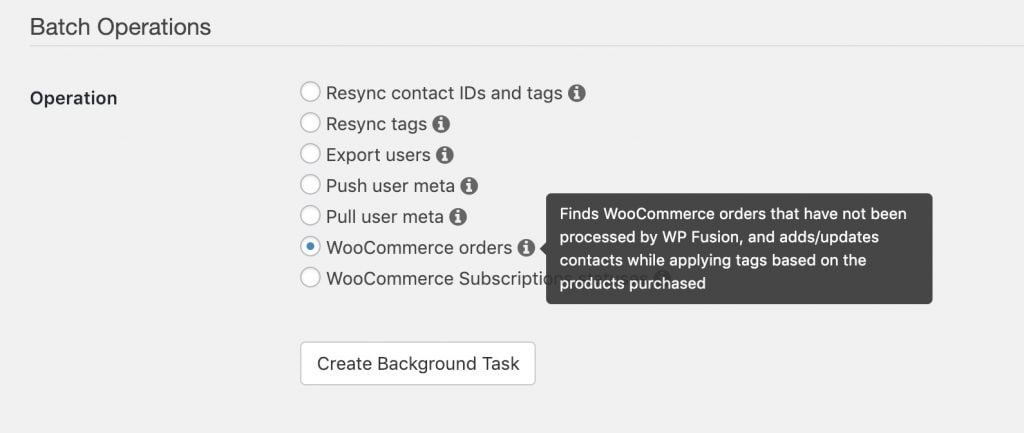 Select "WooCommerce orders" from the list of options, and click Create Background Task.
WP Fusion will go through all of your orders, adding / updating contacts as necessary, and tagging them based on the products purchased. A status bar will appear at the top of the page indicating the progress.
After each order is processed it will be locked by WP Fusion so it can't be exported again, to prevent duplicate data from going to your CRM.
(Advanced) Unlocking orders for re-export
It may occasionally be necessary to export orders to your CRM a second time, for example if you've modified the tags configured on your products. By default WP Fusion will not process the same WooCommerce order twice, but there is a way to unlock those orders for re-export by visiting a special URL in the admin.
To unlock orders for re-export, go to the WP Fusion settings page and append &woo_reset_wpf_complete=true to the URL. For example:
https://mysite.com/wp-admin/options-general.php?page=wpf-settings&woo_reset_wpf_complete=true
You'll see a message indicating that the wpf_complete meta key was removed from your orders.
Then you can export the orders again using the WooCommerce Orders option under Batch Tools.