Overview
WP Fusion works with WooCommerce subscriptions to allow you to automatically tag customers in your CRM at purchase, and based on changes in their subscription status.
WP Fusion can also update custom fields on contact records in your CRM with details from their active subscriptions, such as product name, subscription start date, and renewal date.
For more information about the options available with WooCommerce in general, see the WooCommerce documentation.
Setup
WP Fusion adds a new settings panel to all WooCommerce products where you can configure tags to be applied at purchase and based on subscription status:
By checking "Remove Tags" you can remove the tags applied at purchase when a subscription is cancelled, put on hold, expires, or is switched. This is useful for revoking access to protected content when a subscription is cancelled.
You can also apply additional tags based on a change in the subscription state, allowing you to trigger followup sequences in your CRM when customers' subscriptions are cancelled, put on hold, or expire.
Note: For tracking failed payments it's preferable to use the "Payment Failed" setting instead of "Put on hold", since subscriptions will temporarily be put on hold as part of the renewal process.
Subscription status changes
WP Fusion will apply and remove tags depending on changes in a user's subscription status. That logic works like:
If an active subscription is either put on hold, cancelled, or expires, and Remove Tags is checked the tags applied with the original purchase will be removed. The original tags will not be removed if a subscription is in the Pending Cancel status.
If a subscription is cancelled by the user and still has time left on it, the Pending Cancel tags will be applied. When the term of the subscription is over and the subscription status changes to Cancelled, the Cancelled tags will be applied.
If a subscription is in any status other than Active (cancelled, on-hold, etc.) and the status becomes Active again, the tags for all the other statuses will be removed. The tags applied with the original purchase will be re-applied if the user doesn't already have those tags.
If a subscription changes between any two statuses that aren't Active, the tags will be applied for the new status, but no tags will be removed.
Syncing subscription fields
WP Fusion also lets you sync certain details about a customer's active subscription to custom fields on their contact record. To set this up, navigate to Settings » WP Fusion » Contact Fields, and scroll down to the WooCommerce Subscriptions section.
Here you can configure custom fields to store the subscription product name, subscription start date, and subscription renewal date.
Note that this is not very effective on sites where customers can have more than one active subscription, since the values will continue to be overwritten.
Batch Operations
WP Fusion includes two batch operations for WooCommerce Subscriptions, these can be found under Settings » WP Fusion » Advanced » Batch Operations.
These can be used to apply tags and update custom fields in your CRM in bulk for existing subscribers.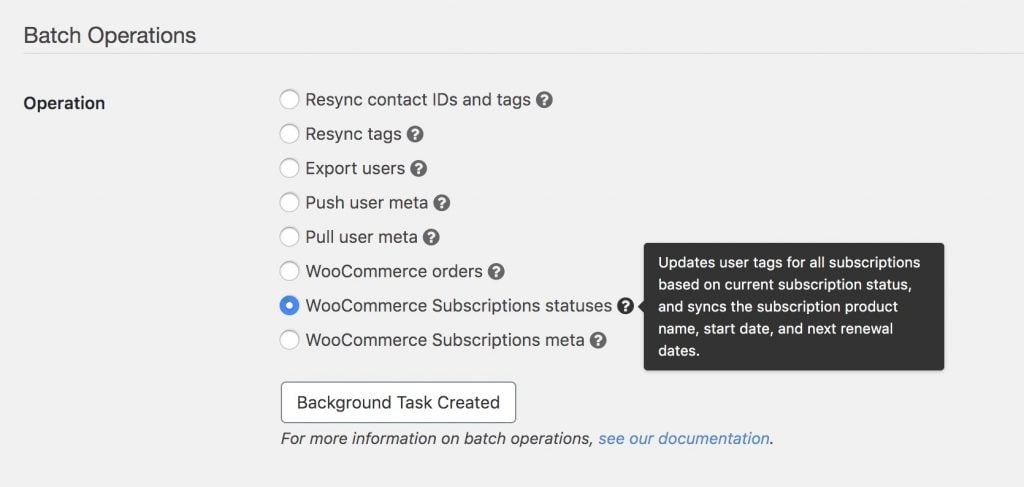 There are two options:
WooCommerce Subscriptions statuses: This operation applies tags in your CRM for every subscriber based on the tags configured for your subscription products, and the customer's current subscription status. It also syncs any subscription fields you've enabled for sync on the Contact Fields tab.
WooCommerce Subscriptions meta: This operation is the same as WooCommerce Subscriptions statuses, but it doesn't apply any tags. It will sync the subscription ID, subscription product name, start date, and next payment date to the configured custom fields in your CRM, for every active subscriber.
Was this helpful?
Let us know if you liked the post. That's the only way we can improve.