NationBuilder is a comprehensive suite of organizational and communication tools for communities, organizations, and campaigns.
WordPress is the most popular content management system in the world, powering 33% of websites.
WP Fusion is a plugin that creates a deep, bi-directional connection between your WordPress website and NationBuilder instance.
Let's take a look at some use cases for connecting WordPress and NationBuilder with WP Fusion.
#Why WordPress?
NationBuilder includes a website builder with an attractive library of themes, and for many organizations this may be sufficient for their web presence.
But NationBuilder sites are largely static, and the number of options for design and functionality are quite limited compared to WordPress. Here is a sample of what's possible with a WordPress site:
#Ecommerce
Using the popular WooCommerce plugin, you can sell just about anything. For example:
Sell physical products, and track stock levels
Calculate shipping and tax rates automatically
Offer multiple methods of payment
Charge customers monthly with recurring subscriptions
Create coupons and limited-time offers
#Membership and Community
With a WordPress site you can offer members-only content, and build online communities:
#Design
The options for site design on WordPress sites are unparalleled.
There are hundreds of thousands of themes to choose from, or you can use the popular Elementor page builder to design your own site.
Here's a showcase of some sites built with Elementor.
#Why WP Fusion?
WP Fusion provides the bridge between all those WordPress plugins and your data in NationBuilder.
#Lead Generation
Let's say for example you've created a lead form using Gravity Forms or another form builder plugin. With WP Fusion active you can create a "feed" that connects the form entries to NationBuilder.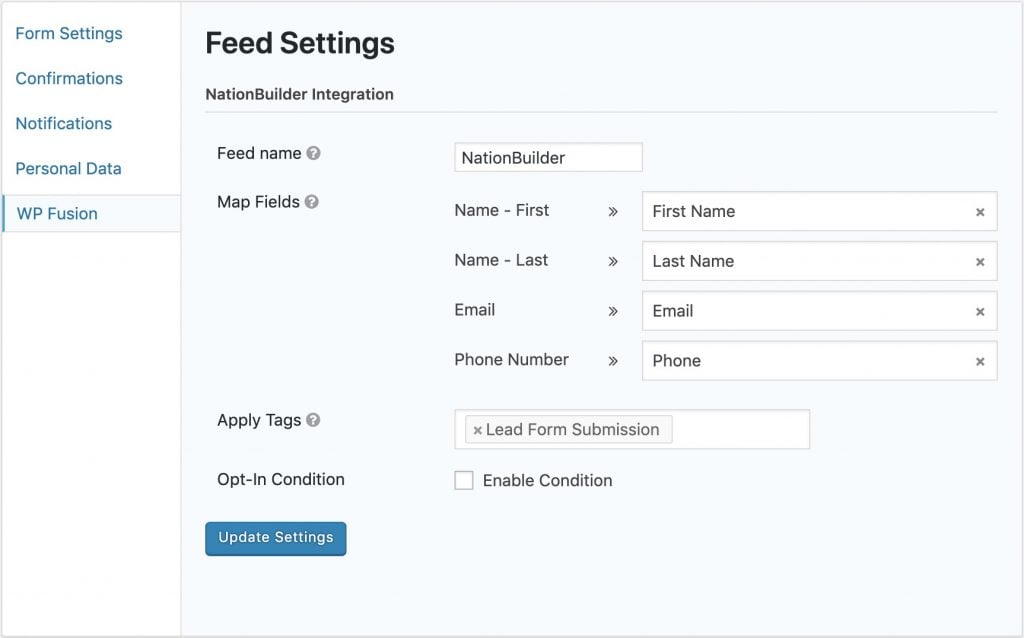 When the form is submitted, a new Person will be added to NationBuilder, and any fields on your form will be synced.
In the example above we've set it to apply the tag "Lead Form Submission". This allows you to segment people in NationBuilder email broadcasts based on how they ended up on your list.
#Ecommerce
WP Fusion provides similar functionality for all of the most popular ecommerce plugins for WordPress.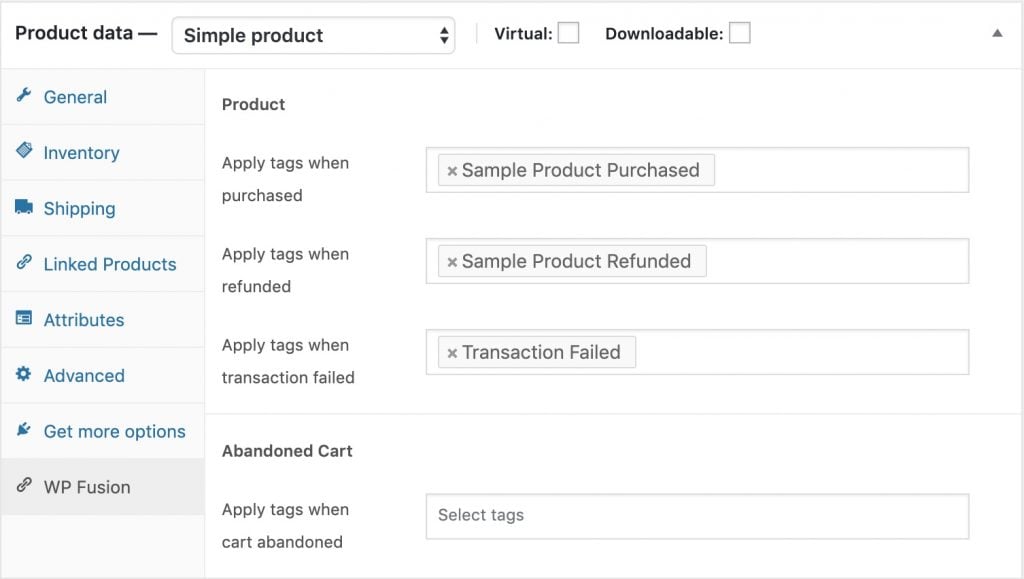 For example here we can see the settings available when editing a WooCommerce product.
When a customer checks out on your store, WP Fusion will add the customer to NationBuilder and tag them based on the product purchased.
#Donations
WP Fusion also works with the Give donation plugin for WordPress.
This plugin provides a ton of options for customizing your donation forms, including donation goals, donation dedications, recurring donations, popup forms, and more.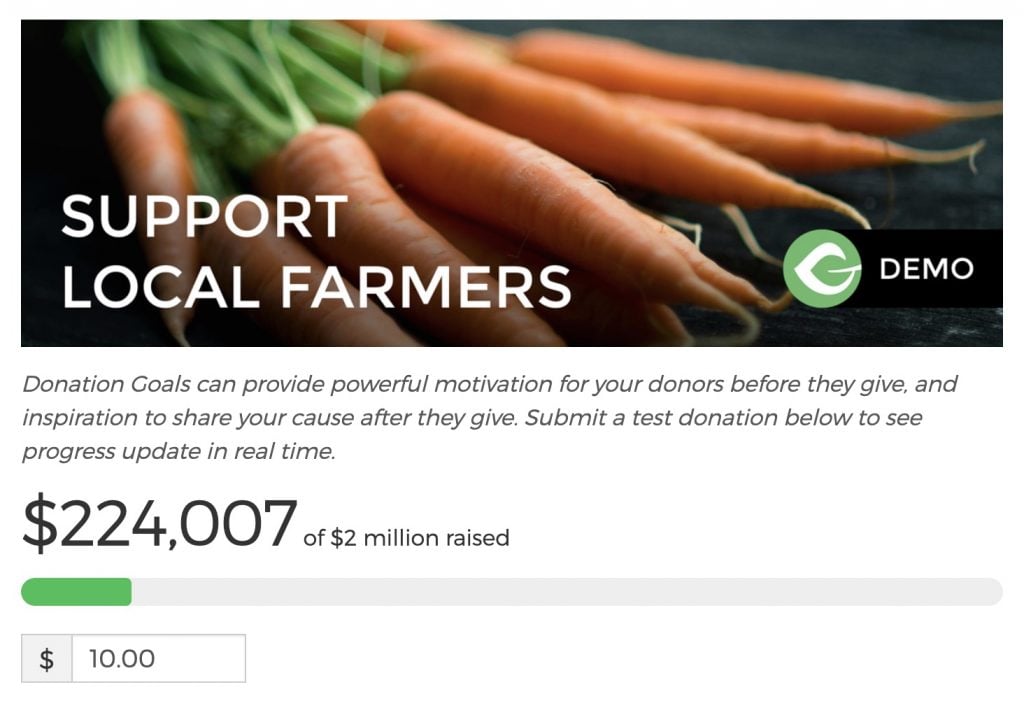 With WP Fusion active your donors will be added to NationBuilder, and you can tag them based on their level of donation. For more info see our Give documentation.
#Learning Management
Not only can WP Fusion add data to NationBuilder, but it's also aware of your data in NationBuilder, and you can use this to personalize your site content.
For example let's say you have an online course that you'd like to provide to all of your "Gold" level donors.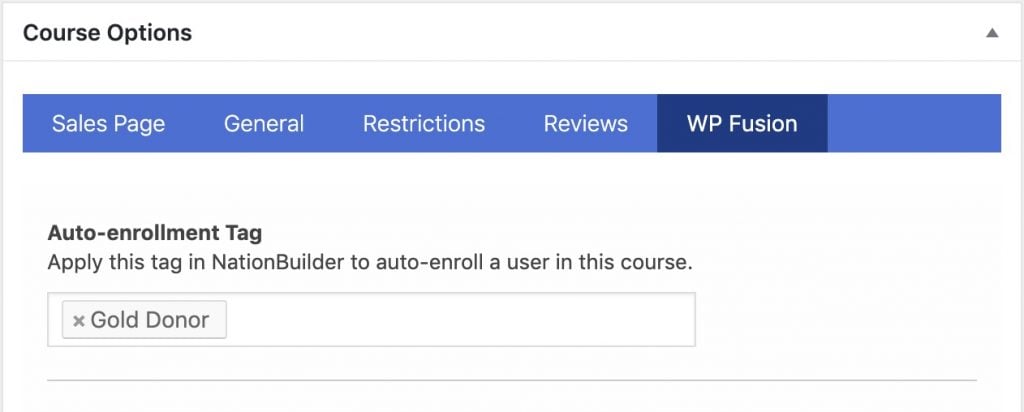 Here we've created a course in LifterLMS and set it to use the tag "Gold Donor" for auto-enrollment.
When this tag is applied to a person in NationBuilder they will automatically be enrolled in the course.
#Video Overview
With support for over 60 WordPress plugins, the options for connecting your WordPress site to NationBuilder are basically limitless.
In this video we give a quick overview on some of the things that are possible with WP Fusion, including:
Sending contact form entries to NationBuilder and tagging leads
Collecting donations via GiveWP and synchronizing donor information
Showing and hiding content in WordPress based on tags in NationBuilder
Automatically applying discounts in WooCommerce based on tags
#In Summary
Since NationBuilder includes a basic site building tool, you may not need a WordPress site in addition.
But if you need more functionality and control over your site than NationBuilder provides, or if you already have a WordPress site, WP Fusion provides an essential link between the two platforms— allowing them to function like one integrated system.
Ready to get started?