HubSpot is an all-in-one inbound marketing and automation platform that makes it easy for businesses to execute, manage, and measure their inbound marketing activities.
The HubSpot platform includes tools for web designing, content creation, email marketing, social media marketing, web analytics, marketing automation, and many more. Essentially, it's everything your business needs for running successful campaigns, hassle-free.
Just as HubSpot is one robust tool, so is WordPress: 35% of the web is built on WordPress.
Now, what wonders do you think may occur if you combine these two incredibly powerful tools?
An obvious answer; your business can skyrocket. This post is your complete guide to integrating HubSpot with WordPress using WP Fusion. You'll learn how to deeply connect the two platforms, and create integrations you didn't think were possible!
Buy WP Fusion today, and deeply connect HubSpot with WordPress!
HubSpot+WordPress = A Winning Combination
The all-in-one HubSpot inbound marketing software makes it easy to optimize lead generation and conversion in the WordPress website. What many people fail to realize is the fact that by integrating HubSpot with WordPress, they can leverage WordPress' CMS with HubSpot's inbound marketing tool.
With HubSpot's inbound marketing framework, it becomes easy for anyone to create a WordPress website and increase traffic on the site by attracting more visitors, converting those visitors into leads (and then customers), and finally turning them into promoters.
Some of the benefits of integrating HubSpot with WordPress when used to their full potential are:
Increased organic traffic
Increased social media traffic
Integrated viewer to lead rate
Increased landing page conversions
Now that we've talked about the benefits let's move onto how one can leverage the benefits of HubSpot and WordPress altogether.
The way of doing that is through using WP Fusion. WP Fusion is a WordPress plugin that helps you integrate your WordPress website with the services you regularly use, eventually allowing you to save a lot of time along with increasing revenue via marketing automation.
The WP Fusion eCommerce addon available for Plus and Professional license holders assists in sending eCommerce transaction data which deals in HubSpot accounts for the sales that are made in:
Give
LifterLMS
MemberPress
Event Espresso
WooCommerce
Easy Digital Downloads, and,
Restrict Content Pro.
Now let's look at how you can quickly tie everything together.
How to Set Up WordPress HubSpot Integration With WP Fusion
One of the best things about using WP Fusion is that it doesn't limit you to only WordPress CRM plugins. Out of the many options available, you can pick any of the best CRMs you want, and then can easily create a two-way connection with your WordPress site and available plugins.
For example, you can use any WordPress form plugin according to your preferences to collect leads and then tag and sync those leads automatically to any CRM you choose. Also, you can quickly and automatically sync your WooCommerce customers to any preferred CRM.
If you change the details of a customer in the CRM, the information will automatically sync in your WordPress and vice versa. Additionally, you can easily restrict access to the available content or use tags from the chosen CRM to personalize experiences on the site.
All in all, WP Fusion makes it easy for you to make any CRM a WordPress CRM without any need to do the coding or hire a developer.
Now, let's move forward and see how to integrate WordPress with HubSpot using WP Fusion.
Here, to collect the leads and then sync the same to HubSpot's free WordPress CRM, we are going to use Gravity Forms. However, you can connect any other WordPress plugins to any CRM of your choice on the list.
All You Need to Do to Get Started
Before setting up your WordPress CRM, these are a few steps which you'll need to perform:
Sign up to the CRM of your choice. Here, we are selecting HubSpot CRM
Install the WordPress plugin that you want to connect with your HubSpot CRM. Here, we are selecting Gravity Forms
Lastly, you have to install and activate the WP Fusion plugin (This tool will allow you to connect any WordPress plugin to the CRM of your choice).
Once you have completed these steps, here's how you can set up your WordPress CRM.
1. Choose CRM in WP Fusion and Configure Basic Sync Settings
After installing WP Fusion, go to settings and then WP Fusion to choose a CRM of your choice (Here, the CRM being HubSpot):
Once you select the HubSpot CRM, you will see a pop-up asking you to authorize the chosen CRM. The process to be followed will depend on the CRM you choose, but this is what it looks like with HubSpot:
Once you're finished with this setup, you will be able to control how to sync your WordPress site with the HubSpot CRM.
For example, you will be able to:
Create new contacts automatically in HubSpot as soon as a user registers in WordPress. You will also be able to map registration fields to the fields in HubSpot
Enable HubSpot Site Tracking to view the activities happening in the website in your HubSpot CRM
Update the user's accounts in WordPress when their data alters in HubSpot (vice versa).
2. Start Connecting Plugins to the CRM
Once you have connected to the website, you are all set to connect the WordPress plugins you use to HubSpot CRM.
WP Fusion integrates with a range of plugins, some of which are:
LMS
Events
Membership
Page Builder
eCommerce
Lead Generation, and many more.
Note that even though here we are using a form from Gravity Forms, this does not mean that the approach will change if you use any other plugin. Instead, the process will remain the same when using other plugins that are supported by WP Fusion.
Now, to get started with the process, you have to open the form which you wish to connect to the HubSpot CRM, or you can create a new form. You can add as many forms as you need: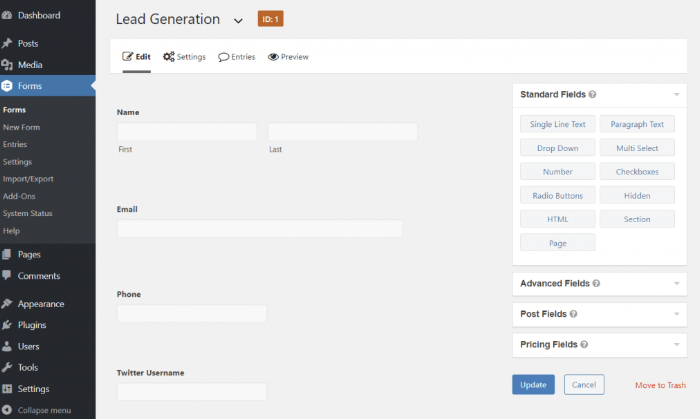 After this, go to settings and then WP Fusion in the Gravity Forms interface:
Next, you will need to create a new feed. From there you'll be able to map the fields in your form to the fields in the HubSpot CRM. You can also easily sync the data with custom fields in HubSpot, besides mapping the Gravity Form fields to the standard HubSpot fields.
Furthermore, you have the option to choose the list which you wish to apply to people submitting this form:
And that's how it's done. Whenever a person submits the form available on your WordPress site, WP Fusion will add the contact to your HubSpot CRM on its own, and the form fields will be synced accordingly, based on the mapping you set up.
Find the details in the Gravity Forms form: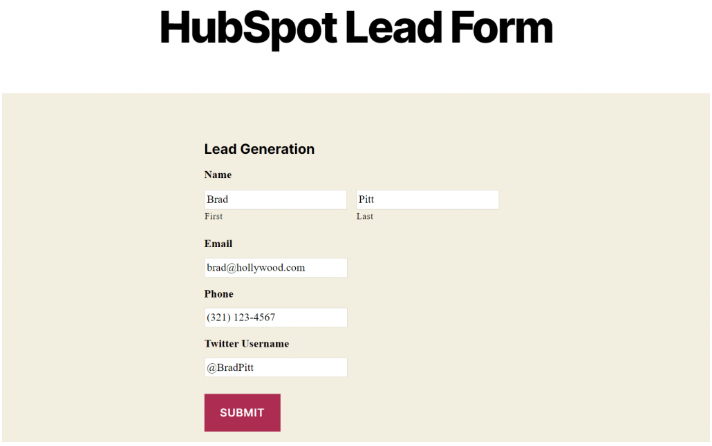 As soon as any person submits the form, their contact details will pop up in HubSpot right away:
And you are done. But, before you think that WP Fusion is just limited to Lead Forms, you must know that it can handle a lot more than that. For example, if you are offering an online course, you can add a new tag to a contact when they are finished with the course.
Or, you can utilize HubSpot's email automation service. This allows you to automatically send pre-written or custom emails whenever a visitor either fills out a form or contacts you through live chat.
That possibilities are endless!
Can I connect WooCommerce to HubSpot?
Sure thing.
There's a reason why WooCommerce is considered the #1 eCommerce platform for WordPress. When you have your WooCommerce store running on WordPress and your mailing list in HubSpot, the options to connect the two are limited.
And that's where WP Fusion comes in. With WP Fusion, all your WooCommerce customers get synced in HubSpot in real time, making it easy for you to segment them based on products purchased, leads sourced, coupon used, and many other variables.
Here's how you can connect WooCommerce To HubSpot
Install WP Fusion and fill in your API details for HubSpot
And then click connect.
And that's it. Now, your WooCommerce customers will start syncing to HubSpot automatically.
With that being said, you can utilize WP Fusion to your advantage. With it, you won't even have to look out for dedicated WordPress integration in your CRM. Instead, all you need to do is choose the best CRM for your needs (in this case, HubSpot).
You can also connect WooCommerce to other CRMs with WP Fusion!
The Final Say
HubSpot is one hell of a platform to grow your business, and integrating it with WordPress can lead you to even more than what you expect. Where WordPress allows you to create attention-grabbing websites, integrating it with HubSpot can take your business to the next level.
Besides increasing website traffic (organic, social media, and referral), landing page conversions, and integrating viewers to lead rates, the winning HubSpot + WordPress combination is important for businesses because it helps in running operations efficiently without spending extra time on learning and connecting different tools.
Now that you know how you can easily integrate your WordPress site with HubSpot by using WP Fusion, you won't need to look around for anything else.
Buy WP Fusion today, and deeply connect HubSpot with WordPress!
Are you ready to integrate your WordPress site with HubSpot? Get WP Fusion today.