#WP Fusion vs Zapier
While WP Fusion and Zapier are both integration tools, they work quite differently.
Zapier is a SaaS (Software as a Service) solution that acts as a middleman between your site and your CRM (as well as many other platforms).
When something is updated in WordPress, it is synced to Zapier's website, and then Zapier syncs the data on to your desired platform. Depending on your plan there is a delay before the data is synced, and/or limit on how many "tasks" you can run each month.
WP Fusion connects your site directly to your CRM or marketing automation platform over the API (nothing goes through our website). Because of this the sync of data is instant, secure, and there are no monthly limits.
In addition to syncing data with your CRM, WP Fusion also includes many options for protecting your WordPress content based on CRM tags, and triggering changes in membership level or course enrollments based on CRM automations. This generally isn't possible with Zapier because Zapier is configured via zapier.com, not inside your WordPress dashboard.
Is WP Fusion a complete Zapier replacement? No, not really. Zapier connects 3000+ web apps with each other, whereas WP Fusion just connects your WordPress plugins to your CRM.
However, if you're currently using Zapier to integrate your WordPress plugins (for example WooCommerce or LearnDash) with your CRM, then WP Fusion is likely a better alternative:
Zapier "Standard" plan: $19.99 / mo for 750 tasks, with a 15 minute delay
WP Fusion "Personal" plan: ~$20.58 / mo for unlimited tasks, with no delay
#WP Fusion vs Membership Plugins
WP Fusion is not a membership plugin (though it can be used as one). Instead, WP Fusion is a framework that connects existing plugins to your CRM and marketing automation platform. This has several benefits over all-in-one systems.
WP Fusion doesn't reinvent the wheel. Instead of including features like a shopping cart, LMS, members directory, affiliate center, or registration form, WP Fusion integrates with dozens of plugins that are designed specifically for these features. This lets us focus on the integration with your marketing automation system, while other plugins are able to shine doing what they do best.
Flexible. By extending other plugins WP Fusion doesn't lock you into one way of doing things. If you need to change out a component on your site, or add new functionality, you don't need to start over from scratch. You can even change CRMs while still keeping your existing content and access rules.
Easy to integrate. WP Fusion integrates seamlessly with your existing content, users, and plugins. This makes setup quick and easy. If you ever decide to stop using WP Fusion, all of your content is still there.
Efficient. WP Fusion is focused on being fast, lightweight, and easy to use. When WP Fusion detects one of our supported integrations, a module is turned on which unlocks features specific to that plugin.
#WP Fusion vs Uncanny Automator
We get asked a lot what the difference is between WP Fusion and Uncanny Automator (and AutomatorWP), since both plugins are "automation" solutions for WordPress.
WP Fusion is primarily an integration tool between WordPress and your external CRM or marketing automation platform. You can see a list of our supported CRMs here.
What WP Fusion does is sync your users and customers into your CRM, so you can send them emails, track revenue and page views, run reports, etc.
​Uncanny Automator is a Zapier-like solution but for WordPress plugins. It's awesome, and we use it on our own websites. You set up a trigger, and then an action— for example "Buy product X in WooCommerce-> enroll in social group Y in BuddyBoss". You can see a list of the supported triggers and actions here.
In summary:
WP Fusion links your WordPress plugins with your marketing automation platform
Uncanny Automator links your WordPress plugins with eachother
​Where there is some overlap is that most of the external CRMs we support also have automation capabilities.
​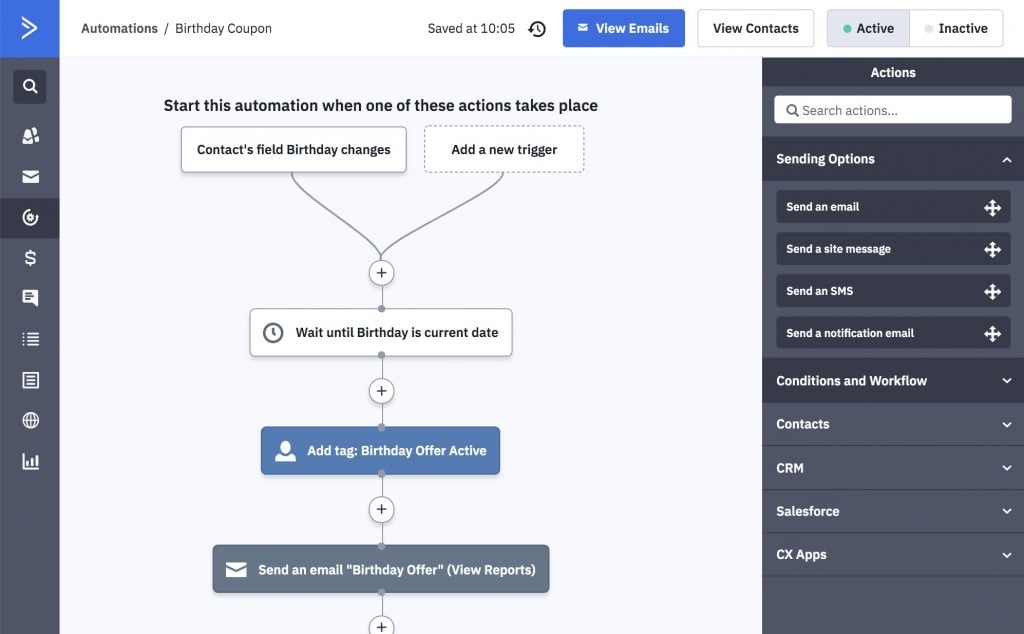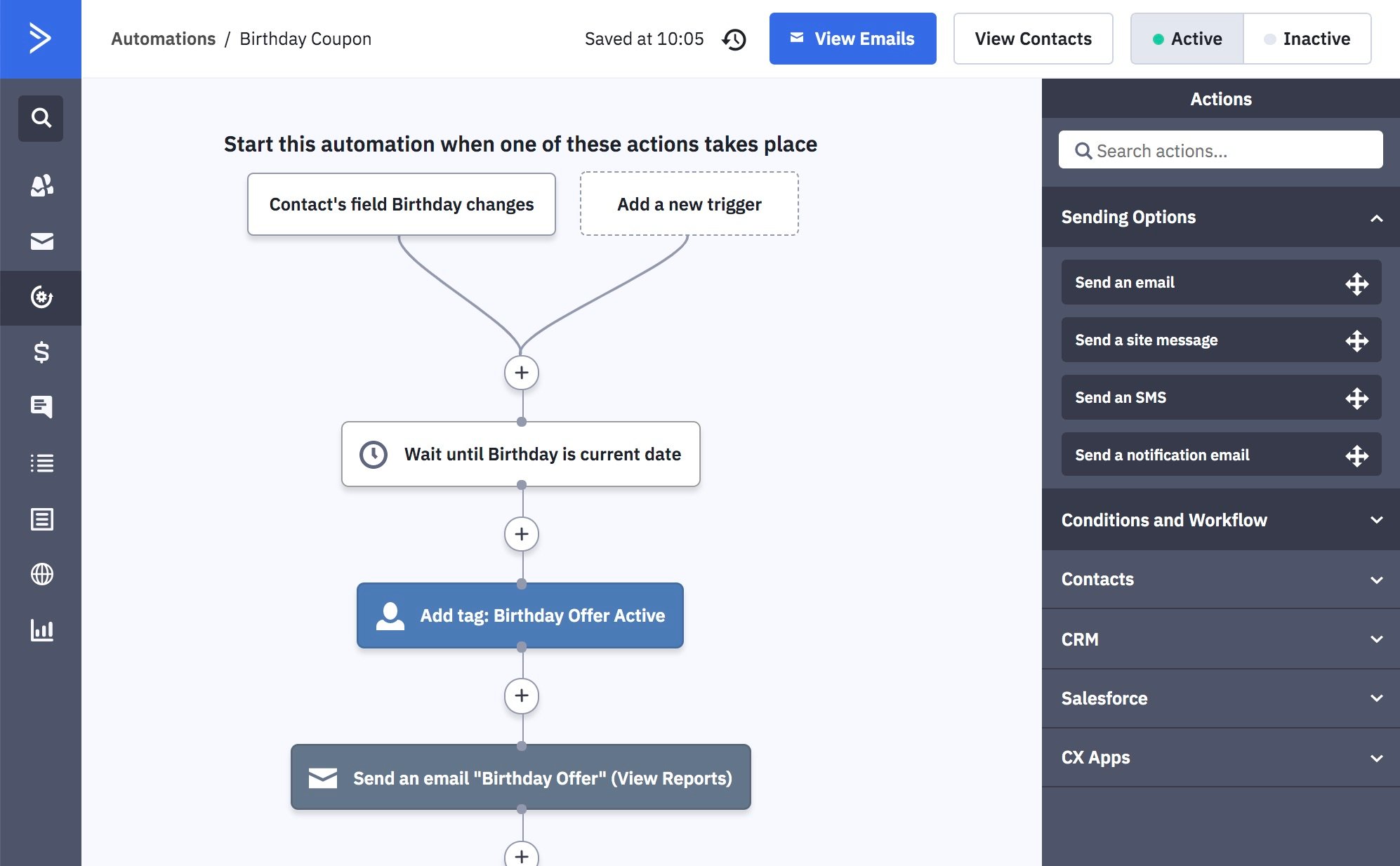 For example in this ActiveCampaign automation, WP Fusion has synced a customer's birthday into a custom field, which triggers the automation. ActiveCampaign then has a date timer to wait until the customer's birthday, applies a tag to unlock a birthday discount in WooCommerce, and sends an email.​
That kind of thing wouldn't be possible with Automator, because it links plugins to eachother in real time. It doesn't have the ability to chain multiple events together with delays and conditions.
On the other hand, while it is possible to use WP Fusion to link plugins together, many times it's simpler to to use Automator for those tasks.
For example lets say you want to use a Gravity Form submission to enroll someone into a free course. With WP Fusion you would have to already be using an external marketing automation tool, and then you would need to create a form feed, which creates a contact in your CRM and applies a tag that's set up as an auto-enrollment trigger into the course.
That process is slow and complicated, and may not work if your CRM's API is slow or offline. But with Automator, the user registration and course enrollment happens instantly.
Another area where WP Fusion is different is with regards to access control features, which Uncanny Automator doesn't have. WP Fusion can protect content on your site using tags in your CRM, allowing you to create a highly personalized user experience based on that user's past interactions with you.
Confusing, right? Which plugin should you use?
Both WP Fusion and Uncanny Automator have free versions (here and here respectively). If you're not sure what you need, a great option is try out both to get a sense of how they work. But as a general guide:
#Use WP Fusion when…
You're already using an external CRM or marketing automation platform
You want to do email or SMS marketing based on events in WordPress
You want to run automations that happen over a period of time or involve multiple steps
You want to restrict access content on your site using CRM tags
#Use Uncanny Automator when….
You're not already using an external CRM or marketing automation platform
You want to link plugins together directly using triggers and actions, without requiring a 3rd party service
You want to sync users between two different WordPress sites
WP Fusion and Automator also work really well together, for example in this hypothetical scenario:
In that scenario WP Fusion handles the integration with your marketing tool, and Uncanny Automator triggers events between individual plugins.
Was this helpful?
Let us know if you liked the post. That's the only way we can improve.