WP Fusion integrates with all the most popular event and ticketing plugins for WordPress, like
With each, WP Fusion allows you to sync event attendees and event details with your CRM, send automated emails before and after events, and gain a full picture of your attendees including survey responses, RSVP status, and check-ins / attendance.
Below you'll find some common techniques that our customers use when running events or selling tickets with WP Fusion and their marketing automation tool.
#Send event reminders
This one might be obvious, but people are more likely to attend your events if you remind them! 😅
Thankfully this is easy with WP Fusion. First enable the Event Name and Event Date fields for sync with your CRM, then set up an automation that is triggered relative to the event date. In this example, we are triggering the automation one week before.
The automation sends an email one week before the event, and then a second email the day before.
Optionally, add a third email after the event to thank everyone for coming!
#Host members-only events
WP Fusion makes it easy to protect any content on your site using tags or lists in your connected CRM.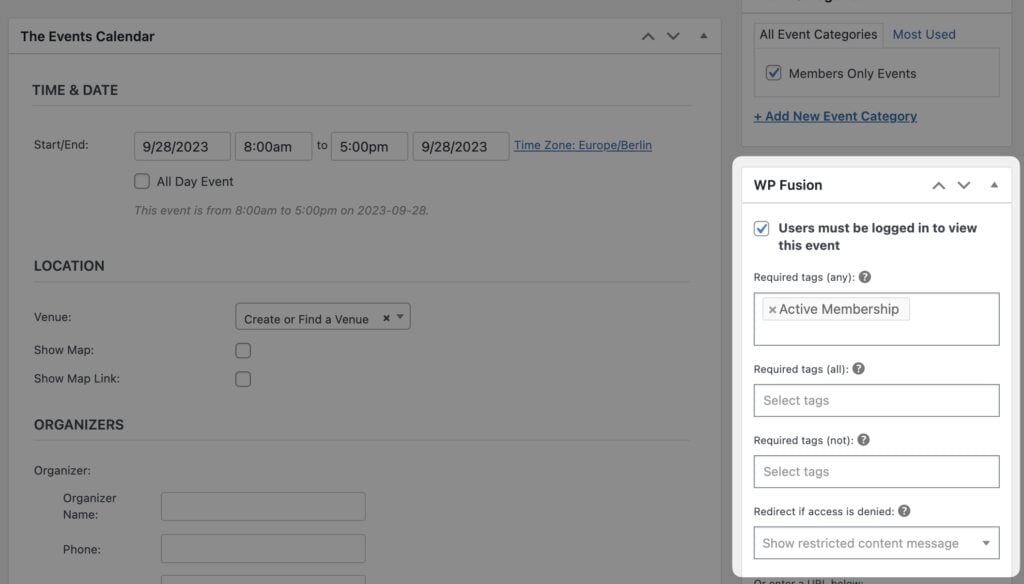 Simply enable WP Fusion's access control on an event, and only members with the required tags will be able to access it.
#Create personalized event listings
In addition to being able to control the visibility of single events, WP Fusion can personalize event calendars and listings based on a logged in user's tags.
Using the Filter Queries feature, WP Fusion ensures that users can only see events that they have the correct tags to access.
This allows each user to see a unique calendar based on their membership level, product purchases, assigned instructor, or any other property.
#Track event check-ins
Marketing for your events becomes infinitely more valuable when you can track who has and hasn't attended in the past. WP Fusion makes this easy.

Just select a tag (or custom field) to use for tracking check-ins, and WP Fusion will automatically update the attendee's contact record in your CRM when they've checked in to the event.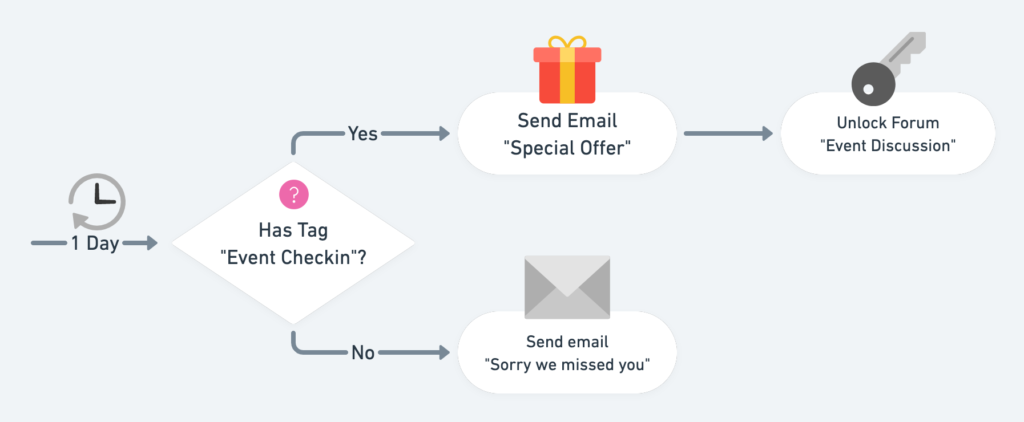 You can then use this data to trigger email sequences based on event attendance, or even auto-enroll attendees into forums and courses.
#Add event attendees to a free course
Sending automated emails and SMS message before and after events is a great way to engage with attendees, but automation with WP Fusion isn't limited to just messaging.
Using tags in your connected CRM, you can unlock posts, forums, courses, badges, and even trigger popups in WordPress.

In this example automation:
The Workshop Attendee tag is linked to a BuddyBoss profile type for auto-assignment
The user is then auto-enrolled into a free LifterLMS course for event attendees
The page Inner Circle Dashboard is unlocked, and automatically appears on your site's main menu
The customer receives an email with their access credentials to the site
#Create a discount for event attendees
Just like WP Fusion allows you to "link" a CRM tag with a course or membership level for automatic enrollment, you can also link a CRM tag with a discount in WooCommerce.
As long as the user has the tag, the discount will automatically be applied to their cart.
This lets you automate the availability of discounts based on a user's past purchases, course activity, or event attendance.
In this example, after the event, a tag is applied which unlocks an automatic 50% discount on selected products in WooCommerce. The attendee receives an email, and then after three days the tag is removed and the automatic discount is disabled.
For more information on linking tags with discount codes, check out the documentation, or read this tutorial on offering automatic discounts on customers' birthdays with WP Fusion and WooCommerce.