Overview
WP Fusion automatically syncs your BuddyBoss members with leading CRMs and marketing automation tools, and allows you to apply tags in your CRM based on member activity, as well as personalize the member experience using tags and automations in your CRM.
This documentation covers BuddyBoss-specific functionality. For more information on syncing members with CRM contact records and applying tags based on groups and group types, see the BuddyPress documentation.
For information on WP Fusion's integration with BuddyBoss Forums, see our documentation on bbPress.
Profile types auto-assignment

WP Fusion supports BuddyBoss profile types. You can specify a CRM tag to be "linked" with the profile type.
When the user is given the profile type, the tag will be applied. When the user is removed from the profile type, the tag will be removed.
Likewise, applying this tag to a user in your CRM or from another integration will automatically assign the profile type to the user, and removing the tag will un-assign it.
Member Access Controls
The Member Access Controls feature in the BuddyBoss Platform Pro plugin allows you to control which membership components a user can interact with (such as forums, groups, private messaging, etc.) based on their membership level.
WP Fusion integrates with the Member Access Controls system to allow you to use tags (or lists / groups) in your connected CRM to personalize the member experience.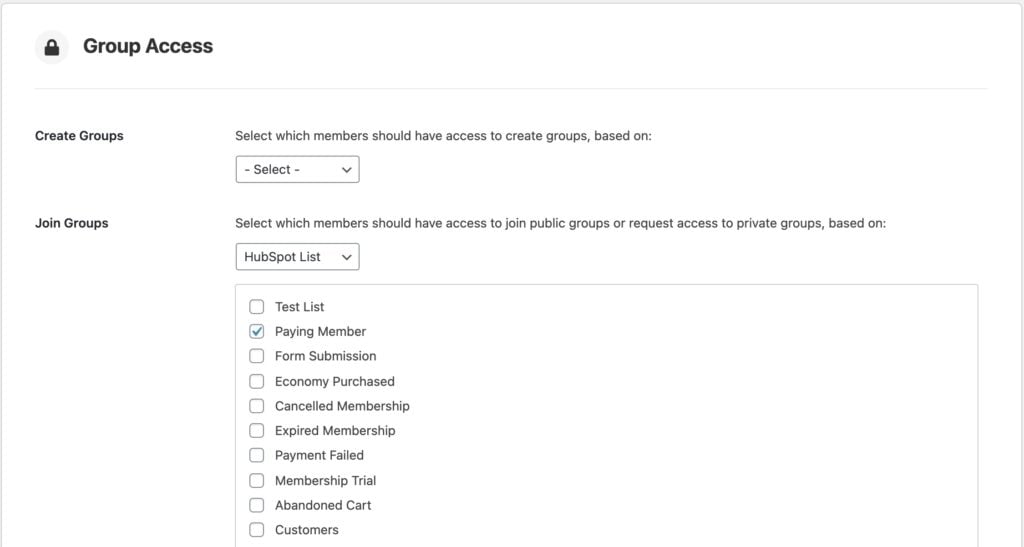 Member access controls are currently available for the Social Groups, Activity Feeds, Media Uploading, and Private Messaging components.
To set up, choose WP Fusion from the dropdown of available access conditions, and then select the required tags (or lists / segments).
Was this helpful?
Let us know if you liked the post. That's the only way we can improve.