In case you hadn't heard, there's a free version of WP Fusion on the wordpress.org plugin repository— WP Fusion Lite.
Up until now we've been keeping kind of quiet about it, because we didn't want to distract from our paid licenses 🤫.
But the truth is WP Fusion Lite is a super powerful plugin for syncing data with your CRM or marketing automation tool, and controlling access to content using CRM tags.
You can even use it to build a membership site or simple LMS 🚀
#What's the difference between WP Fusion Lite and the full version?
WP Fusion Lite is the same as WP Fusion, except that it does not have integration modules with any other plugins (like the 100+ integrations you see here).
That means that functionality specific to a plugin (like applying tags based on WooCommerce purchase) is not available, but features that apply to WordPress in general are available, without any delays or limits.
For example, using WP Fusion Lite you can:
(WP Fusion Lite also does not support receiving incoming webhooks.)
#So what can I do with WP Fusion Lite?
Let's look at some things that work great with WP Fusion Lite:
#Sync user registrations and profile updates with your CRM
If you're selling anything online or delivering membership content, you know it's important to keep your mailing list up to date. 
WP Fusion Lite syncs your new user registrations to any one of 40+ supported CRMs and marketing automation platforms.
You might be thinking "I'm selling memberships with MemberPress, and WP Fusion Lite doesn't have a MemberPress integration"— yes, that's true that WP Fusion Lite doesn't have any MemberPress-specific features, but because WP Fusion is watching for all new user registrations, it will sync new users to your CRM regardless of the source.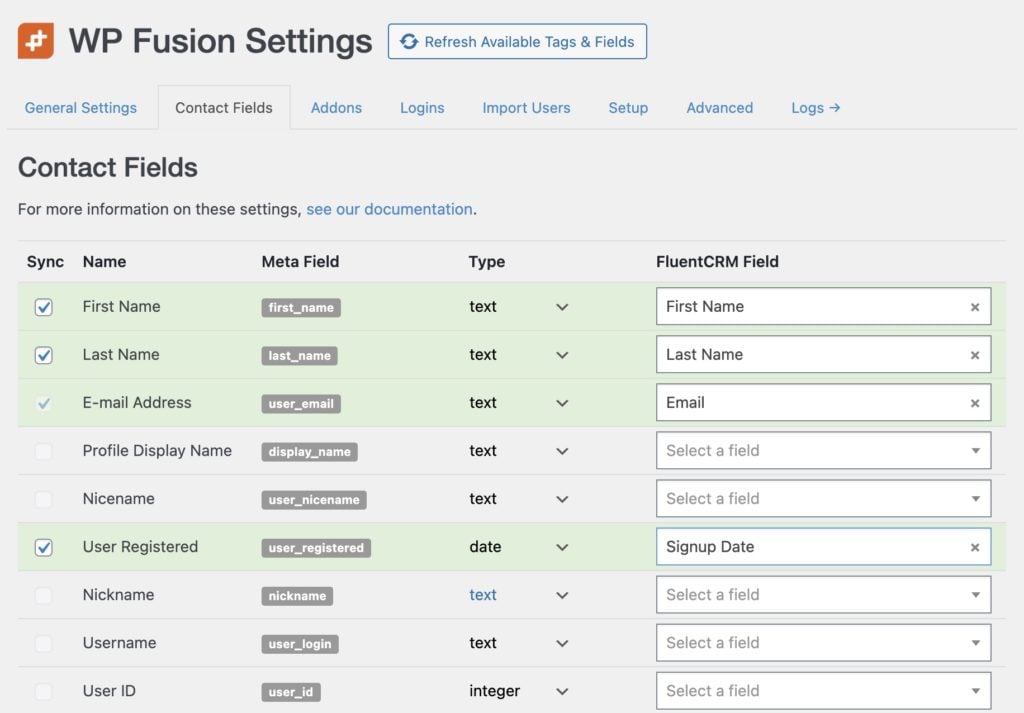 That could be a membership signup in MemberPress or LifterLMS, or a new WooCommerce customer— as long as they get an account on your site, WP Fusion will sync their details to your CRM.
And that sync goes beyond registration. Your new users are "linked" with their CRM contact records. If a member updates their email or other details it will be synced to your CRM in real time, ensuring you always have the most up to date information on your customers and members.
Get Automated. Get WP Fusion.
Start syncing your customers with your favorite marketing automation platform, using the free WP Fusion Lite.
Download Now
#Control access to content based on CRM tags
Using WP Fusion Lite you can control access to posts, pages, lessons, and other content on your site using lists and tags in your connected CRM, and redirect people to another page if access is denied.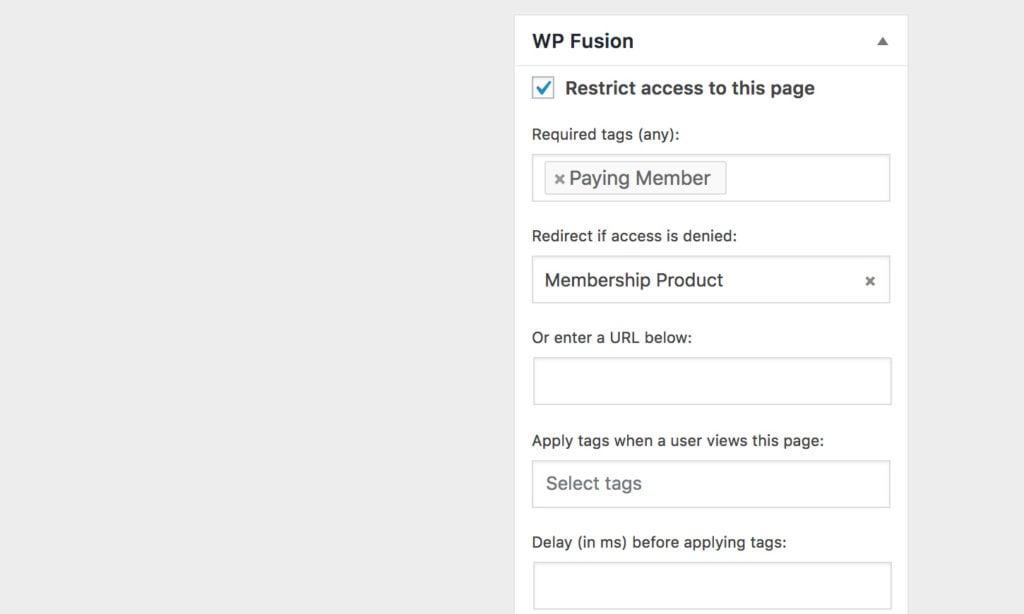 That's great for creating a members portal or managing access to a course, but WP Fusion Lite has additional tag-based access control options as well:
You can even use the Block Visibility plugin with WP Fusion Lite to show and hide Gutenberg blocks based on a user's tags in your CRM 🤯.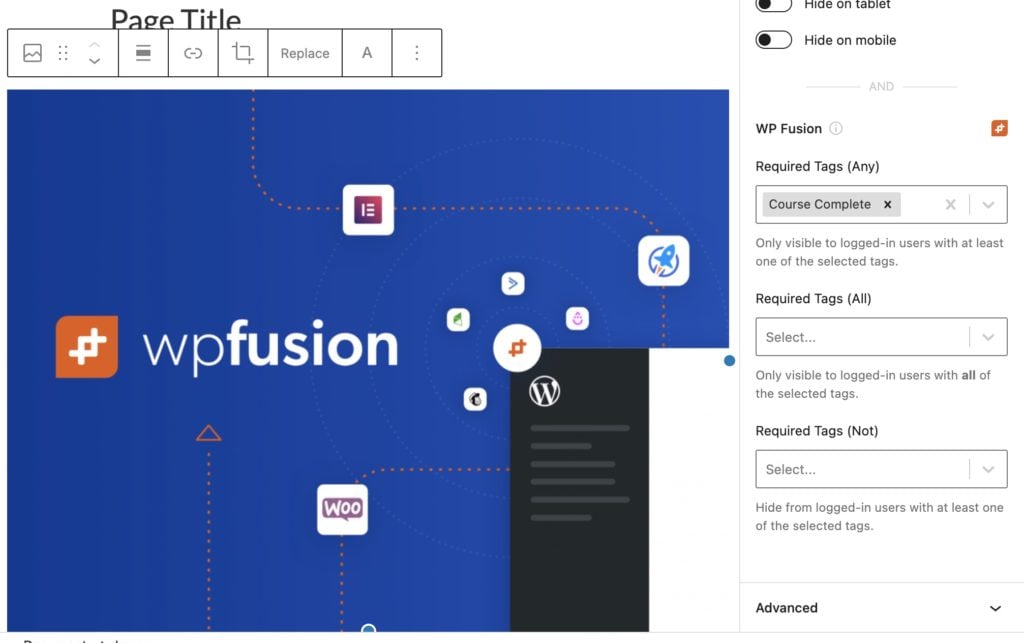 #Track user activity
WP Fusion Lite has a few ways of tracking activity on your site 👀.
You can enable site tracking scripts with supported CRMs, and WP Fusion will send all pageviews to your CRM, so you can see site activity on that user's contact record.
With all of our supported CRMs, you can apply tags in your CRM when a page is viewed, which can be used to trigger additional automations or to update a lead score.
For more advanced tracking, you can use WP Fusion's click-tracking scripts to apply tags in your CRM when links, buttons, video players, or other elements are clicked.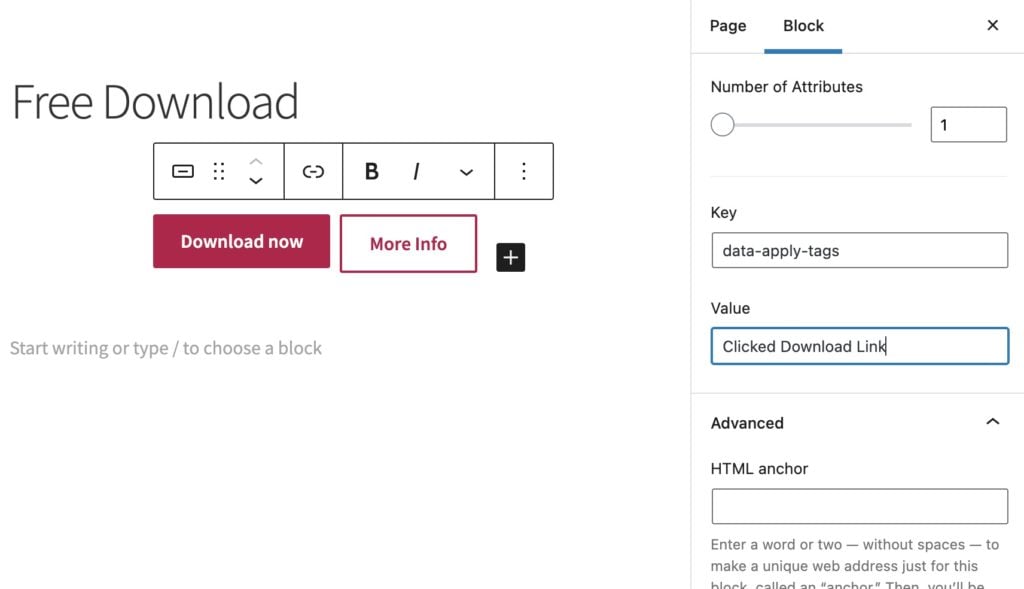 But maybe you want to track data for list subscribers who aren't yet customers, or don't have accounts on your site. Not a problem!
Using WP Fusion Lite's "auto-login" / "tracking" links, you can send out emails from your CRM that automatically start a tracking session once they're clicked— even if the subscriber doesn't have an account on your site.
This can be used to unlock content protected by CRM tags, to track activity (using all the techniques above), and to pre-fill forms with the details from the subscriber's record in your CRM.
#And all of this is free?
Yup! All of these features are available free, now and forever, in WP Fusion Lite.
Get Automated. Get WP Fusion.
Download WP Fusion Lite for free.
Download Now
#So why would I want to upgrade?
Once you start to see the possibilities that come with having your WordPress data syncing to your CRM in real time, you may want to track more activity than just account registrations and page views.
You might want to apply tags and trigger automations based on events like:
In that case, it's easy to upgrade to the full version of WP Fusion— all your settings transfer over automatically.
But if not, no worries! We're happy to be able to continue to support WP Fusion Lite, and to be the solution for integrating your WordPress site with your CRM 🧡
Get Automated. Get WP Fusion.
Check out the full version of WP Fusion for integrations with 100+ WordPress plugins
Buy WP Fusion