Overview
WP Fusion integrates with MemberPress to bring the power of your CRM to your WordPress membership platform.
When a user checks out on your MemberPress site, their contact details will automatically be added to your CRM. WP Fusion also supports detecting and syncing any custom fields you add to the checkout form.
Tagging
When configuring a membership level, you can click on the WP Fusion tab to configure any tags you'd like applied when the membership is purchased.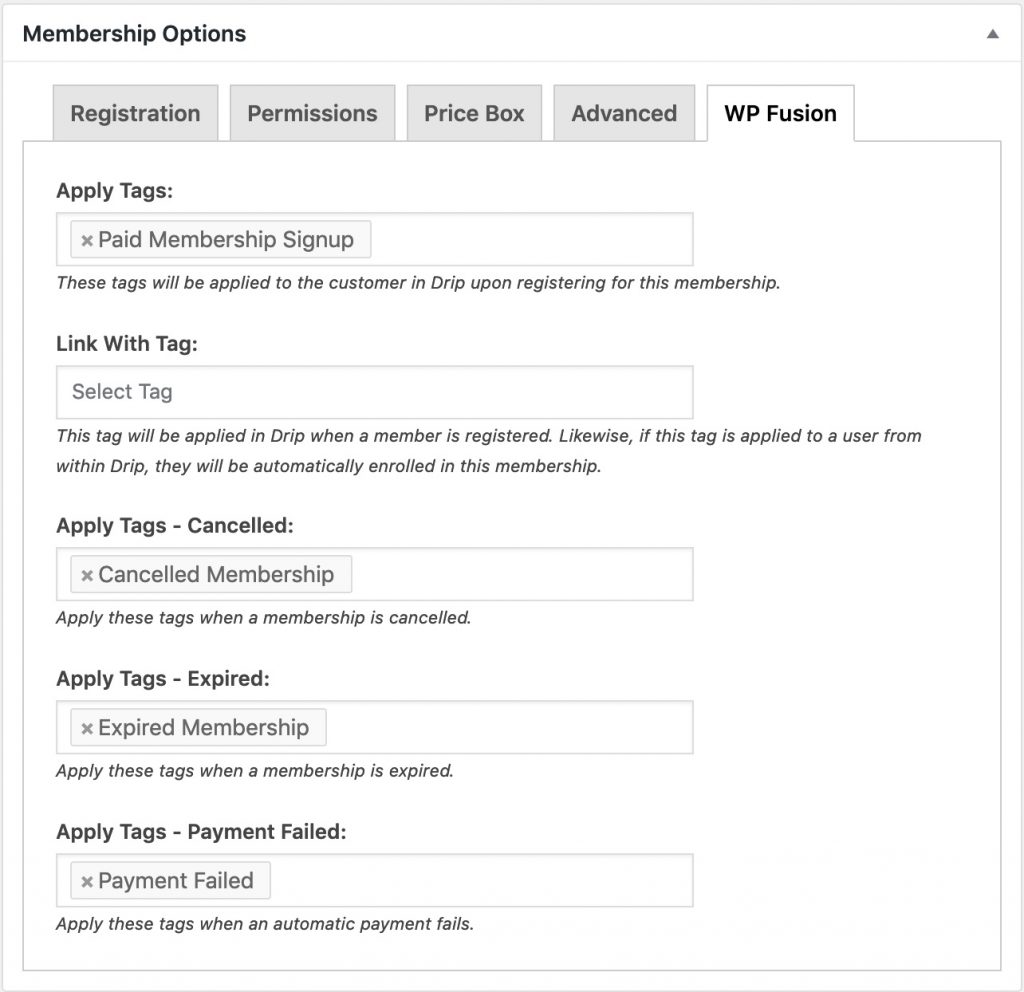 There are five options here:
Apply Tags: When the customer purchases a membership, these tags will be applied in your CRM. This is the default behavior.
Link with Tag: Most sites won't require this, but it is available as an option for those that need it. This setting allows you to select a tag that becomes linked with the membership level. If this tag is applied to a user, for example via a webhook, they will be automatically enrolled in the membership. Likewise if this tag is removed, they will be removed from the membership. This lets you automate individual users' membership levels using sequences in your CRM in conjunction with webhooks / HTTP Posts.
Apply Tags – Cancelled: These tags will be applied when a membership is cancelled.
Apply Tags – Expired: These tags will be applied when a membership expires.
Apply Tags – Payment Failed: These tags will be applied when a payment fails as part of a recurring transaction.
Corporate Accounts
WP Fusion also supports the Corporate Accounts addon for MemberPress. When this addon is detected a new setting will appear at the bottom of the WP Fusion settings when editing any membership level.

Here you can specify tags to be applied to members who are added as sub-accounts to the corporate account.
Coupons
WP Fusion also allows to to apply tags to the new contact when a specific coupon is used at checkout.

You'll see the new settings box when editing any MemberPress coupon.
Additional MemberPress fields
With MemberPress installed, you'll see additional fields under the MemberPress section in the Contact Fields list.
You can sync a member's registration date, membership expiration date (if applicable), and payment method to custom fields in your CRM.
You can use these values to trigger email sequences to follow up with a member as their expiration date is approaching, or create rewards for members who have been with you for a long time.